When you live or visit Destin, it's not only about the destination…the journey itself can be pretty spectacular.
By TripSmarter.Com | March 21, 2013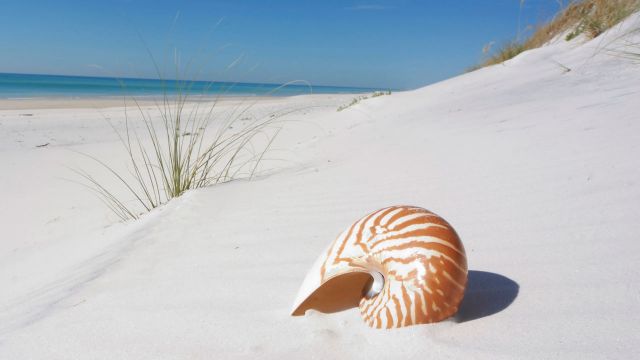 Destin, FL
Destin is certainly one of the "jewels" on the Emerald Coast…and if you didn't know, it's pretty much centered on the coast as if it were a diamond on a wedding ring with Panama City to the right and Pensacola to the left. All of 30-A- Seaside, Rosemary Beach, Watercolor and so on are also just a hop, skip and a beautiful jump away. When you live or visit Destin, it's not only about the destination…the journey itself can be pretty spectacular. Talk about location, location, location!

If you're a fisherman (or a fisherwoman if there is such a person), you'll be glad to know that deep-sea bottom fishing in Destin is how you catch Red snapper, grouper, triggerfish scamp and amberjack! In addition, charter boats also troll near the coast, finding cobia, black fin tuna, king mackerel, bluefish, barracuda and spanish mackerel. If you're into adventure and want to spend a little time moving far offshore, you'll find white and blue marlin, wahoo, and sailfish. Over 100 charter and party boats call Destin home, and range in size from six-passenger capacity to ones that can handle more than 100 anglers. Anything goes when it comes to fishing in and around Destin, so don't be afraid to ask your captain for lunch…or dinner. For a price, anything is possible and that's the beauty of charters… doing it YOUR way!

You don't have to enjoy fishing, which to some people just too relaxing-you know, inert! Oh yes, fishing fine but being on the water should have more purpose…like a glass-bottom boat or a sunset cruise and a glass of champagne. Destin's waterways also offer very exciting experiences for those "A" types who need a little speed to get by…there's nothing like being on a high speed racer for a little excitement and should you decide to put it into a "no wake zone" speed, you're likely to see a pod of dolphins swimming in the wake of your "good-times" excursion. There's a little bit of everything on the water and there's no time like the present. Temperatures are now consistently hitting the 80 degree mark but the humidity is still low and it's just like paradise…ask any boater!

Of course there are those who don't appreciate the water at all and that's all fine and dandy as long as there's "shopping?" Destin is world famous for its shopping! Silver Sands happens to be one of the largest, if not THE largest shopping outlet mall in the country. Let's put it this way…you need your car to get around! Destin Commons is another incredible shopping Mecca with many fascinating, exclusive specialty shops designed with the shopper in mind, not to mention all the fun places for the kids, including a pop-up fountain that will amuse them for hours! What's a little water on new vacation clothes? No worries, shopping in Destin is basically another kind of paradise, if shopping's your thing?

It seems like more and more men and women enjoy playing golf and that's an excellent idea in Destin. The weather is practically perfect and there happens to be more great courses than you can shake a stick at…or a five iron, both to the right, left and center of Destin! If you know your golf, you may have heard that the only Nicklaus designed course in NW Florida recently opened on Panama City Beach and in Destin proper you can play some of the finest golf courses in the country!

Destin's courses are designed for large greens, narrow fairways, hills, valleys and marshland, and set among natural landscapes of blue water and white sand. A long list of distinguished golf architects such as Bob Cupp, Joe Lee, Fred Couples, Rees Jones, Tom Jackson, Tom Fazio and Jerry Pate, just to name a few, have set the course for a challenging and pleasant day of golf. Regatta Bay tops the list and to the west, Perdido Bay begs you to play! Whether it's the game of golf, the incredibly beautiful settings, or just being outside in the fresh Gulf air…it's hard to beat playing golf on the Emerald Coast! Destin also happens to be right in the middle of all the best courses. Wherever you're staying, simply turn right or left and you'll find your way to an incredible day of golf.

After a day of…well, whatever, you can count on an even more incredible evening of good food; in fact, dining can be exactly what you want it to be, from very casual dining to the ultimate in fine dining. Restaurants line the harbor and the Gulf with beautiful views and sunsets to enjoy. Outdoor decks at many of the restaurants put you up close and personal with the fishing fleet and the warm Gulf breeze is never far away. Seven Destin restaurants made the Florida Trend 500 Best Places to Dine list, so the very best food and service is only a reservation away!

The ultimate attraction however has to be the emerald green surf of the Gulf of Mexico, bordered by the most beautiful beaches in the world…beaches of soft, sugar-white sand! And where's there's sand and a rolling surf, there's sure to be plenty of water sports and activities nearby, including snorkeling, scuba diving, parasailing, kite surfing and more! Every type of relaxing activity is available in Destin, from gently strolling through a scenic state park to whipping around in a go-cart or whisking down a giant waterslide. There's fun for everyone and all ages, one to ninety...or even a hundred!

If you're at all concerned about any damage done to the Destin beaches in the past years from passing storms, the area's beach restoration project is underway, and 7.2 miles of beaches, beginning just east of Sandestin and heading west toward Henderson Beach State Park, will receive 80-100 feet of sand in width and 8-12 feet of sand in depth by mid-to-late June. June is just around the corner and that means summer is nearly upon us…and summer means "season" on the Emerald Coast. Since Destin is THE place to be, better make your reservations now and get ready for the time of your life! Destin is all things to all people and you just can't go wrong. Can you imagine a vacation without someone complaining? Well, Welcome to Destin…everyone's happy in this paradise!