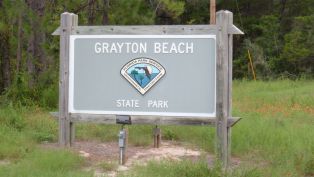 Grayton Beach consistently ranks among the most beautiful and pristine beaches in the United States. The beach provides an idyllic setting for swimming, sunbathing and surf fishing and is the backdrop for golden sunrises and silver moonlit evenings. The nearly 2,000-acre park features a boat ramp that provides access to the lake's brackish waters for both freshwater and saltwater fishing. Visitors can paddle a canoe or kayak on scenic Western Lake to get a closer look at a salt marsh ecosystem. A nature trail winds through a coastal forest where scrub oaks and magnolias stand, bent and twisted by the salt winds. Hikers and bicyclists can enjoy more than four miles of trails throughout the pine flatwoods. Options for overnight stays include modern cabins and a full-facility campground.

Listing Management:
Update Business Details
MOST POPULAR
Articles
Videos
Directory

No Reviews have been posted yet. Be the first!
YELP Reviews Coming Soon!
Google Reviews Coming Soon!