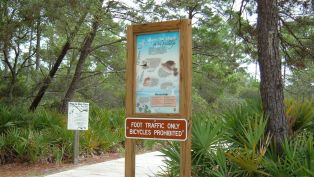 Point Washington State Forest, a 15,000-acre forest, is home to more than 10 miles of trails sure to challenge bicyclists, hikers and nature lovers. One of the most popular is the route from Eastern Lake to Cassine Garden where you might spot an endangered red-cockaded woodpecker or a gopher tortoise, a species of special concern to environmentalists.

Point Washington State Forest primarily consists of sand hills, basin swamps / Titi drains, wet flatwoods, wet prairie, and cypress swamps. It is also home to threatened and endangered species. Point Washington State Forest offers fantastic hunting, bicycling and hiking.
Listing Management:
Update Business Details
MOST POPULAR
Articles
Videos
Directory

No Reviews have been posted yet. Be the first!
YELP Reviews Coming Soon!
Google Reviews Coming Soon!