As 2013 comes to a close, I look back on the many dining and travel experiences I had with Destination Network this year.
By TripSmarter.Com | December 16, 2013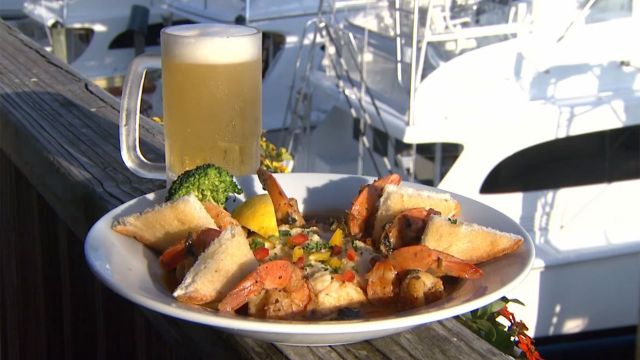 As 2013 comes to a close, I look back on the many dining and travel experiences I had with Destination Network this year. I decided to flip through my calendar (yes I am one of those old-fashioned souls who still carries a calendar book) and revisit some of the highlights.

Right at the beginning of the year, at the end of January, I got to travel to Savannah, GA, to help launch the Lowcountry Channel there. What a gorgeous little city. I loved the Forsyth Park farmer's market, where I stocked up on whole pecans and a Georgia-roasted coffee, and Sisters of the New South––a soul food restaurant on the perimeter of the city, where I loved the white velvet cake. Another highlight was dinner at Elizabeth's, a fine dining restaurant where I enjoyed decadent cuisine and a table by the fireplace.

On an April trip to Northwest Florida to film a show on restaurants that have withstood the test of time. I really enjoyed this show because it got to the heart of the families that built up that area, long before it was the huge destination it is today. I worked with families at Angelo's restaurant, The Back Porch Grill, Captain's Table, Capt Anderson's, and Harbor Docks that were multi-generational––passing the heavy torch of restaurant ownership through the generations. I was moved by the bond these families have, both within themselves, and to the area they feed. It really does matter that restaurants stick around, remaining part of people's entire lifetimes.

I enjoyed the topic so much, I repeated it in the Keys––filming five restaurants that stand the test of time, five "Oldies but Goodies". There is less of a family connection with these five -- Louie's Backyard, No Name Pub, Green Turtle Inn, Pepe's, and Marker 88, but it was interesting to learn how the history has changed here while these restaurants remained largely the same.

In early October, just as the leaves were beginning to change, I caught up with Atlanta, filming a Top 5 on Sustainable dining. The food in Atlanta is so incredible, and to find out that some of my favorite dishes––Georgia mountain trout, for example, and cornmeal-dusted oysters, and diver scallops in smoked corn puree––are also environmentally responsible just sweetens my memories even more. There are so many new restaurants opening there, but Lure, The Optimist, Empire State South, Serpa's, and One Eared Stag have planted their roots deep and will only continue to flourish.

Only a few weeks later, I hit my last destination: New Orleans. This food/ cuisine/ dining/ cocktail/ fun-loving city is thriving beyond compare. The cocktail of the trip was a Pimm's Cup: I tried at least five (my favorite being at Maurepas, a new restaurant in the Bywater). I had an incredible Sunday dinner at Criollo in the Monteleone. What a huge amount of heart that restaurant packs. The staff is so warm and professional. I love the stunning shrimp, blue crab, and avocado salad (a masterpiece, really), and the forager salad with local Satsuma, and the fish of the day, pompano, in barigoule, all washed down with a pinot gris. I couldn't have been happier. My other favorite moment had to be visiting Ye Olde College Inn, next to the Rockin' Bowl, and watching the chef owner cuddle one of his heirloom chickens before whipping up a poached egg he served over a boudin ball and salad from his garden. Ninety percent of what they serve there is sourced from the farm outside the door, or within 100-mile-radius. New Orleans never ceases to impress me.

What a tasty year, and how fun that I can relay my experiences through television, letting visitors know where to dine in Savannah, the beaches from Panama City to Destin, the Florida Keys, Atlanta, and New Orleans. Thank you for traveling and helping to support these special destinations, their historic and family restaurants, and the regional dining they all do so well.