Atlanta Downtown
Atlanta's downtown is vibrant and alive with businesses!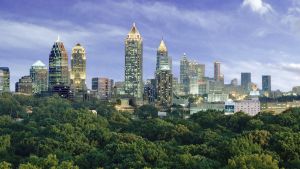 Atlanta
Buckhead is known as the most affluent and elegant district in Atlanta, but it's name signifies a much more primitive time in the area's history... a time when hunting was the main local enterprise, and hunters made up the local population.

The name "Buckhead" actually began with a large deer shot by an anonymous woodsman around the 1840's. After being mounted on a pole near a stream, travelers stopping for water couldn't help but notice it. It made such an impression that the name stuck, though it's not exactly clear why... rumor has it that it was a way to poke fun at European noblemen who displayed their hunting trophies on walls for all to adore. Whatever the reason, the name has withstood time and even survived a possible name change in the late 19th Century.

Buckhead has evolved throughout the years into a well-known, exclusive upscale district with the most beautiful homes, famous nightlife, fabulous shopping, great dining and a impeccable financial center. Buckhead is most famous for its restaurants. Food & Wine named Atlanta one of America's 20 greatest food cities. Out of Gourmet Magazine's list of the top 20 Atlanta Restaurants, 11 of them are in Buckhead.

The little alleyways and narrow streets framing the intersections of Pharr Road, Peachtree and Roswell Road are often as packed with pedestrian traffic as New Orleans Bourbon Street. It is one of the only places in Atlanta where partygoers can park and stroll from bar to bar.

Whether you're in the mood for an exciting night of fun, a casual night of relaxation... even if you just want to cruise through and see the sights, Buckhead has it all just waiting to be discovered!

A very famous soft-drink, now known as Coca-Cola, was first served there, and the depot could handle 100 trains per day. Several iron bridges were constructed to cross the rail tracks until a local architect proposed that they be replaced by concrete. A mall at bridge level would connect the concrete viaducts and create a series of public plazas.

This caused the street system to elevate one level in order to permit better traffic flow. Because of this, merchants moved to the second level, leaving their storefronts for storage and space. Growth continued over the railroad gulch until 1968, when the five block area of the original downtown was declared a historic site.

In 1989, Underground Atlanta was redeveloped and today is one of several major projects aimed at preserving and revitalizing the center of Atlanta as a focal point of community life. As of today, Underground Atlanta continues to grow and flourish as an essential part of life in Atlanta.

Another essential part of Atlanta is its culture, and there's no better place to find it then the High Museum of Art also located nearby in Midtown (Midtown was considered a part of the Downtown community until recently when it began to develop its own unique neighborhood pride). The art on display in the museum is representative of the years of effort put into providing a unique visual legacy for the future.

It presents different ways of looking at and interpreting art in order to create a dialogue between the art and its viewers. The High Museum of Art has mastered this in its selection of what exhibits to display and in the process become a destination of choice for many art lovers throughout the city. Downtown Atlanta offers an experience unlike any other in the South. A true urban center, with a "small town" neighborhood feeling, the perfect place to begin your exploration of Atlanta.