Sweet Auburn is actually several blocks of black owned businesses and residential property along Auburn Avenue.
By TripSmarter.Com | March 21, 2013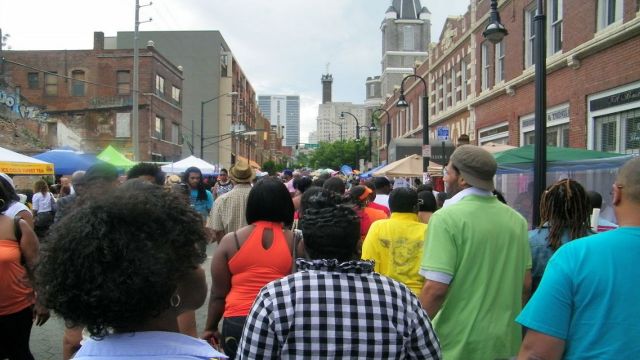 Atlanta, GA
Margaret Mitchell wrote the classic, "Gone With the Wind," in her apartment in Atlanta, Ga. The images of beautiful plantations and the "Old South" are forever captured in this great novel. Audiences everywhere fell in love with Scarlett and her confidant and friend, Mammy. But, the days of slavery and the stereotypes that went along with the movie are, fortunately, no longer. And it is only fitting that the changes began in Atlanta, also known as... "The Gateway to the South!"

Sweet Auburn is actually several blocks of black owned businesses and residential property along Auburn Avenue. Auburn Avenue is a place where legends were born and are still remembered. The most well-known being the great Martin Luther King, Jr.

King lost his life to an assassin while fighting for equal rights for people of every skin color. He was instrumental in initiating the beginning of the Civil Rights Movement. A holiday in his honor has been established, and his life's work is commemorated each and every year on King's birthday, January 15th.

King was born and raised on this famous street in a house that has withstood the ravages of time since 1895. Auburn Avenue is also home to the Gothic Revival Ebenezer Baptist Church where three generations of the King family have preached for the last 80 years. Follow the "River of Life" leading to his tomb, and you'll find this famous quote, "Free at last, Free at last, Thank God Almighty, I'm free at last!"

At the early age of 38, King was finally free from a world of segregation and suppression. To make King's "dream" become a reality, the Center for Non-Violent Social Change has carried on with King's mission and can also be found on this remarkable street of dreams. But, Sweet Auburn's claim to fame doesn't end there.

Famous musicians have been known to live it up at the Royal Peacock Nightclub, formerly "The Top Hat." Greats such as Cab Callaway, Louis Armstrong, Aretha Franklin and blues veteran, B.B. King, have been spotted in the famous old club.

Significant black leaders have been forever immortalized on the walls of the John. H Calhoun Park. It has become the "Wall of Respect" in remembrance of the significant contributions they have made to society. Throughout history there have been numerous successes by black men and women in art, history, music and politics, and The African American Panoramic Experience, APEX Museum, offers visitors an excellent way to learn about each and every one of them.

In addition to these important members of the Sweet Auburn community, you can find the Atlanta Daily World, the first ever black owned daily newspaper. Along with the 1926 Herndon Building and the Auburn Rib Shack, famous for their mouth-watering ribs and Bar-B-Que. John Wesley Dobbs, a retired postal clerk, named this area Sweet Auburn after hearing the phrase, "There's nothing sweeter than money!"