A cool hotel in a cool location, you will soon forget the heat is on.
By TripSmarter.Com | February 26, 2013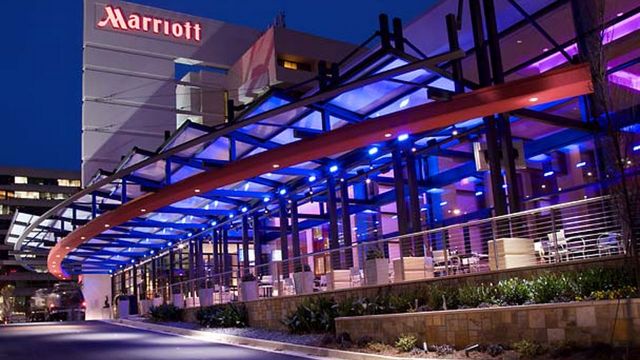 Atlanta, GA
When it's hot in Hotlanta, it's time for a Staycation at the Atlanta Marriott Buckhead Hotel & Conference Center. A cool hotel in a cool location, you will soon forget the heat is on.

If you're driving in, park your car and forget it, and if you're flying into Jackson Hartsfield International Airport hop on MARTA for a quick and cool air-conditioned ride to the Buckhead/Lenox MARTA station which is one block from the hotel and provides very easy access to the city's most popular attractions.

After a quick southern welcome and check-in we head to our room to drop our luggage off and check out our Staycation accommodations. (If you are a highly allergenic person, this hotel has installed PURE® Technology in several guest rooms to ensure these rooms remain 99.9% allergy free). We look around, look at each other and it's a high five! The room is spacious, bright, a beautiful view of the pristine pool, and views of some of the best shopping in Atlanta, Phipps Plaza and Lenox Mall (both within 1-2 block walking distance).

After travelling all morning we applied some sun block and hit the outdoor pool to refresh and reenergize. Time to replenish too, so a few steps away is the hotel's Patio at Shula's 347, where we ordered salads, that were fresh off the farm! Perfect! At which time I was informed 'we' are off to the malls. Let me go on record saying this is not, I repeat, not on my bucket list! That being said I head to the local Sports Bar until we reconvene in 2 hours. Alarm set. Check.

Two hours later you would have thought it was Christmas, however the summer heat reminds me otherwise. Boxes and packages that could stack to the ceiling. Justification: Huge summer sales and the new line of fall styles.

After "that" damage is done we headed to Piedmont Park for a sunset stroll through the park and onward to the Atlanta Botanical Gardens for Concert & Cocktails in the gardens, then on to Dante's Down the Hatch for dinner, and a romantic walk back to the hotel. A truly perfect day in Hotlanta!

Tomorrow's agenda: Shopping the boutiques in Decatur, High Museum of Art, Museum of Design Atlanta and deciding which restaurant(s) we will experience.

Staycation in Hotlanta??? There will be many, many more!!