Atlanta Midtown
Atlanta's Midtown neighborhood comprises Little Five Points, Virginia Highlands, Georgia Tech, Peachtree, and Ponce de Leon.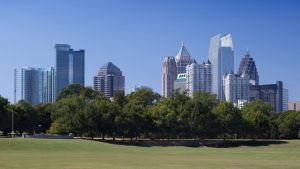 Atlanta
If you are traveling to Atlanta for the first time, you might have some trepidation about navigating the streets of such a sprawling city. Have no fear! There is a method to the madness in Atlanta, and it centers around Peachtree Road. Peachtree runs from North to South through the city. If you follow this street, you should be able to find each and every neighborhood in Atlanta, beginning with the Downtown area.

Little Five Points represents the 'New South' concept and is known for its "counterculture." Located about 3 miles east of Downtown, Little Five Points consists of about 75 shops, restaurants, hangouts and nightspots . . . each possesses its own peculiar personality. This is what makes Little Five Points different! Whether you're into bell bottoms and tye-dye, piercings and spikes, or tattoos and dreadlocks, this neighborhood has something for everyone. Well... almost everyone; if your wardrobe consists of sport coats and ties, you will have to loosen your collar a little to really feel at home and experience all that Little Five Points has to offer.

Along with each unique neighborhood in Midtown, another significant member of this area is the Georgia Institute of Technology, better known as Georgia Tech. Since the first day of classes in 1888, Georgia Tech has continued a tradition of excellence in technological research and education.

It is the South's largest industrial and engineering research agency and is consistently listed as one of the 50 best universities in the nation by U.S. News & World Report. Midtown is also home to the Atlanta Botanical Garden, the Atlanta Symphony Orchestra, the Woodruff Arts Center, the High Museum and Piedmont Park!

The ASO made their European Debut Tour in 1988 and has received 15 Grammy Awards for its recordings. They have made their national debuts in both television and radio and performed on their second European Tour in 1991 with 16 concerts in 15 cities.

The ASO celebrated its 50th Anniversary Season in 1994-95 and welcomed an international audience of more than 3.5 billion people in the Opening Ceremony of the Centennial Olympic Games in 1996. The ASO dazzles audiences everywhere as it continues more than five decades of excellence.

In the heart of Midtown is Piedmont Park . . . Atlanta's most loved park, rich with history and a centerpiece of the city. First a farm, then a World War I encampment, later the prestigious home to the Piedmont Driving Club (unveiled with humor in Tom Wolfe's "A Man in Full"), it also served as the grounds for the 1895 Cotton States and International Exposition.

While evolving into a public park, Piedmont Park has hosted many of the events that shaped Atlanta. Each year about 3,000,000 people visit the famous park, making it one of the most used parks in the Southeastern United States.