Atlanta is often referred to as the "Capital of the South," but a far more accurate name for this booming metropolis might just be, "FUN CITY!"
By Garth Bandell - Destination Network | February 26, 2013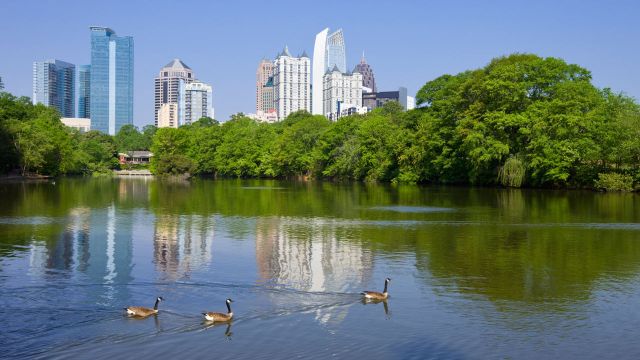 Atlanta, GA
Atlanta is often referred to as the "Capital of the South," but a far more accurate name for this booming metropolis might just be, "FUN CITY!" It's no secret that Atlanta knows how to party and you'll never be at a loss for something to do, but having FUN is really what this down-home big-time city of southern hospitality is all about…and the FUN never stops!

As you know, the Atlanta of "Gone with the Wind" pretty much burned to the ground, but in its place is one of the most modern cities in the country, surrounded by old-world charm and a canopy of green that rivals most any rural setting. But it's downtown Atlantathat rose from the ashes of the Civil War as a stunning testament to modern architecture with its clean lines and endless sheets of glass and mirrors that reflect the ultra-modern buildings and sleek designs of the world's best architects. Downtown Atlanta is also home to the fabulous Fox Theatre, a beautifully opulent and grandiose structure with minarets, domes and an even more lavish interior décor. Once tagged for demolition, The Fox Theatre was saved by the citizenry of Atlanta and is now designated a National Historic Landmark. The 2013 season will include such mega-hits as The Producers, Flashdance, Sister Act and the Alvin Ailey American Dance Theater just to name a few…and be sure to look for Jerry Seinfeld in March, as well as all the other special events, big-name concerts and magnificent parties that consume the Fox schedule each and every year! Look for all the FUN at foxtheater.org and be sure to include the fabulous Fox Theatre whenever you're in Atlanta!

The world's largest aquarium also makes its home in downtown Atlanta with more than 100,000 animals in an astounding 8 million gallons of fresh and marine water. You're sure to see many things you've never seen before at the now famous Georgia Aquarium, including beluga whales and African penguins in the Cold Water Quest exhibit…thousands of fish, manta rays and gigantic whale sharks swimming inside Ocean Voyager and one of the largest living reef exhibits in the world inside Tropical Diver. There's so much to see and do, you'll need plenty of time to experience all the FUN at Georgia Aquarium! The World of Coca-Cola is the aquarium's next door neighbor, where you can taste over 60 different products from around the world and learn all about the fascinating history of the world's most famous brand…and Atlanta's favorite drink, Coca-Cola! Both attractions happen to be just across the street from Centennial Olympic Park, a glorious gathering spot for locals and visitors alike. The park's 21 acres were first developed for the 1996 Olympic Games but it lives on providing many exciting fun-filled events, including a 4th of July Celebration and concerts by some of the biggest names in popular music. Millions of visitors also frequent the park to enjoy the world's largest interactive fountain; in fact, The Fountain of Rings is the centerpiece of Centennial Olympic Park and one of the most recognized and photographed landmarks in all of Georgia. The Fountain of Rings Show plays four times a day to various musical accompaniments and is free to park visitors; but in the summer months, the fountains become a respite from the summer heat as children and adults abandon protocol and play for hours in the cool waters of a "pop-up" fountain just made for FUN! During the Christmas holidays, the park is decorated with 20 miles of twinkling lights, a 58-foot holiday tree and downtown Atlanta's only outdoor skating rink that's open daily from mid-November to the end of January. For a list of upcoming events and more, check out the park's website at centennialpark.com.

Before you leave the downtown area, stop by CNN for a studio tour and immerse yourself in the history of the first network to develop the improbable concept of 24-hour world-wide news on television…7 days a week! Then head to Midtown, where giant oaks sprawl over stately antebellum homes and dogwoods bloom in profusion. You'll find all this and more inside Atlanta's Botanical Garden, 30 acres of cultivated plants and woodlands meant to inspire the every day gardener. This must-see attraction also produces many extraordinary and entirely unique events in conjunction with mainstream artists and special holidays all year long, plus it's adjacent to Piedmont Park, Atlanta's largest and most spectacular playground for young and old alike. The High Museum is also nearby on Peachtree and 15th Street. Widely regarded as the finest museum in the Southeastern United States, the High features a renowned collection of classical and contemporary art and celebrated architecture by Richard Meir and Renzo Piano. The museum is open Tuesday through Sunday and detailed information about special exhibitions can be found at high.org.

But no visit to Atlanta would be complete without a visit "underground!" Yes, the FUN really moved underground in 1969 when Underground Atlanta opened as a city beneath the streets and quickly became one of the city's favorite attractions and a cultural hub with more than 100 years of history. Pick up a self-guided history tour brochure at the information booth and explore the 12 acres and three levels of shopping, restaurants, entertainment and FUN…all underground! When you come up for air, there's still Buckhead, Stone Mountain, Andretti Karting and Games and a multitude of other ways to have FUN in Atlanta, including a profusion of year 'round festivals, galleries and of course, Atlanta's exciting nightlife from dusk 'til dawn. So, when you hear, "Y'all come back," make sure you do for even more FUN in a city that sure to become your home away from home.