Once fall is in full control in Atlanta, people travel great distances just to see this profusion of color as it dances its way into winter.
By | March 21, 2013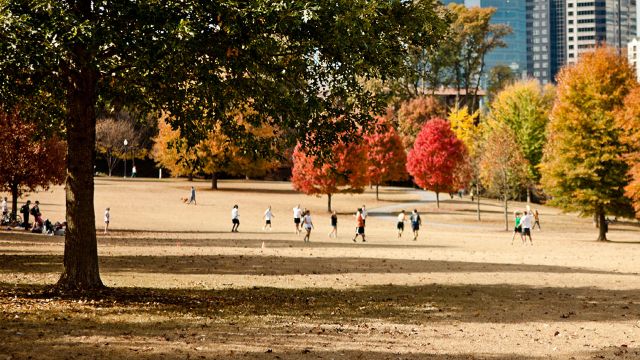 Atlanta, GA
Atlanta is a true original, hailed as the capital of the South and known for its diversity... from southern charm to metropolis surroundings, ashes of the Civil War to the birth of Civil rights, Atlanta offers endless possibilities... and as fall arrives, this is the absolute best time to put on your walking shoes and enjoy all this great city has to offer, and there's just no better way to see it all than on foot! Really... as the weather cools, it's much easier to be the first in line for every attraction and it's even easier to get the best seat in the house at the fabulous FOX Theater or the 14th St. Playhouse! This is the time of year to take that walking tour of Atlanta you've been dreaming about... maybe even planning in your head? There's so much to do and so many places to see, but make no mistake about it, you'll need to be very organized to make the most of your time so you don't miss the many charms of Ansley Park or Druid Hills, and there's so much history to be discovered in downtown Atlanta! Fall is the best time to view this great city and for the sheer pleasure of "people-watching," Atlanta ranks high on any list and is forever interesting from it's antebellum architecture to the modern technology of CNN... and people from all over the world are watching people from all over the world... watching the rhythm of Atlanta as it bumps and grinds to the music on everyone's iPod, a myriad of musical styles as vast and different as the many cultures that are only too happy to call Atlanta "home."

Atlanta's architecture is equally diverse. Downtown Atlanta is one of the most stunning testaments to modern architecture in the country... where building after building has been erected in relationship to the other. Endless sheets of glass and bright shiny mirrors reflect the ultra-modern designs from every corner assuring each viewer that downtown Atlanta is clearly an urban splendor without equal. And yet, it is only a short drive into Midtown, where giant oaks sprawl over stately mansions and homes. There's "green space" everywhere and neighborhoods both large and small teem with colorful trees, shrubs and plants of every description... even flowers manage to bloom throughout they year in these mostly moderate temperatures. Piedmont Park is Atlanta's largest park with 189 acres of "luscious green" that is enjoyed by more than 2.5 million people each year and the fall season manages to turn acre after acre into a palette of muted earth tones as nights cool and the magic of autumn casts its spell over every leaf still holding on as if taking a last breath of summer air before letting go and drifting to the forest floor. Once fall is in full control, people travel great distances just to see this profusion of color as it dances its way into winter and the cycle of renewal we call Spring.

Atlanta is also a city of proud festivals and events, many of which fill the autumn calendar with FUN... pumpkins and gourds that mark the season with good will towards others and the spicy aroma of pumpkin pie and unique cranberry confections for this and that. It's also the time of year for football and Atlanta Falcons Fans think of nothing else. The whole town is Super Bowl crazy in their quest for a place in football history, but Turner Field still holds a modicum of glory and a visit to this hallowed ground never loses its grip on top of every sports fan's "wish list!" The ever-popular Stone Mountain also plays host to many of the city's best festivals held during this time of year, including the Yellow Daisy Festival and JapanFest, to name just a few... and A Taste of Atlanta is a "must-do" event for any serious gourmand. Atlanta's Oktoberfest rivals just about any Bavarian celebration anywhere, and Runners and "half runners, if you will, still line up for the Atlanta Marathon and Half Marathon in November! Come Christmas, this Southern town is decked out and decorated in its finest attire for the Holiday Season from one end of town... allllllllll the way to the other... and please, keep in mind that this peach of a city is firmly rooted in the deep south so the temperature seldom gets too cold and more often than not, it's just right!! Even the celebrated "Peach Drop" on New Year's Eve often enjoys very moderate temperatures... but warm, hot or downright cold, the "south shall rise again" and beginning any New Year by gently dropping a very large, ripe peach is not only highly recommended but enjoyed by thousands and thousands of excited revelers... driven to near hysteria by the thought of warm peach cobbler and vanilla ice cream welcoming the New Year as only Rhett Butler and Vivien Leigh could do!

But let's get real... just about everyone really comes to Atlanta to shop! While Lenox Square Mall and Phipps Plaza are the indisputable centers of retail shopping in the city, families "in the know" never miss a bargain at the Mall of Georgia on Buford Drive! Midtown also has much to offer with its well-known "warehouse district" off Howell Mill Road and the ever eclectic and electrifying "Little Five Points" is an absolute WOW of a destination with unique, one-of-a-kind shops... and that's putting it v-e-r-y mildly!

Now, if art's your thing, the gallery scene in Atlanta is first rate and no trip to Atlanta would be complete without a visit to the Fay Gold Gallery in Miami Circle or Lowe's Art Gallery on Bennett Street. But art is everywhere in Atlanta... and, luckily, most of it is for sale! So when you're hungry... buy it! And when you're HUNGRY, there's nothing like southern food, and Atlanta's restaurants have won rave reviews from critics 'round the world. Naturally, you can find "honest to goodness" fried chicken, real mashed potatoes, collard greens and peach cobbler at Gladys Knight's Chicken & Waffles, but many of Atlanta's more famous restaurants are a far cry from what might be called "home cookin'!" An exhilarating 85-second ride in a scenic glass elevator will carry you all the way to the top of The Westin Peachtree Plaza and the highly rated, ever-popular Sun Dial Restaurant. Nikolai's Roof is another restaurant perched elegantly atop The Hilton Atlanta. Oscar's... one of the trendier and certainly more "down to earth" restaurants in College Park should not be missed, and Tamarind offers superlative Thai cuisine right on 14th Street inside Colony Square.

If you're still looking for something to do, The High Museum of Art was designed by famed architect, Richard Meier and the museum's stunning, porcelain-enameled building is rivaled only by the art inside. Zoo Atlanta is one of the country's oldest Zoos to the delight of crowds from all over the world and Centennial Olympic Park, built for the '96 Olympics, and its all too famous "fountain of rings" is a most entertaining spot for an afternoon picnic anytime of year and it's guaranteed to keep the kids occupied and highly entertained for HOURS!. And let's NOT forget about the Atlanta nightlife! Clubbing in Atlanta will keep you on your toes and dancing until the wee hours of the morning! Atlanta's really beautiful people are often found letting their hair down at Compound and the new Vision Nightclub and Lounge is set to open in the fall of 2011 if residents and club owners manage to iron out their differences? If all goes well Atlanta's Vision may have more to do with Miami than Atlanta? But style, like art, is very objective and only the clubbers will have the final, "yay or nay!" Backstreet and Bulldogs cater beautifully to Atlanta's super hip gay crowd, but if you're looking for a live band or concert, the Tabernacle, an old and beautifully converted church, is the place for ambience and LIVE music that really matters... and so much more! Finally, there's Shout, with deluxe private seating and more originality than any other spot in the South! Cosmo Lava, Luxe and Halo also offer "edgy" nighttime diversions only found in a Southern Metropolis like "Hot'lanta!" And maybe... just maybe it should go underground?

But day or night, Atlanta is a wonderful city to visit! Its Southern hospitality is evident in any season and its theaters, both large and small, are always filled with captivating and often ground breaking entertainment. Even a show like "The Color Purple" had its early beginnings at the Woodruff Center before ever making its way to Broadway and the critical acclaim that followed. Atlanta's many different neighborhoods also provide hours of entertainment and Downtown has an allure all its own with its tall, modern buildings that not only reflect the sky, but everything around them, each and every building included. It is a stunning visual array that is as captivating as any modern painting could ever be. Midtown has recently grown into a hip epicenter of the "now culture" with colorful outdoor cafes and bars that entice crowds day and night... though Buckhead still has a personality and elite shopping all its own, the exciting nightlife begins and ends in Buckhead, only slowed by the rising sun... but wherever you go, you're sure to be richly rewarded and welcomed by Atlanta's own special brand of warm, southern hospitality... and walking is not only the best way to actually "SEE" the city... it's good for the soul!