This entertaining and exciting experience for aquarium visitors is the result of a dynamic team from many fields working together to inspire, entertain, and above all...educate.
By TripSmarter.Com | March 21, 2013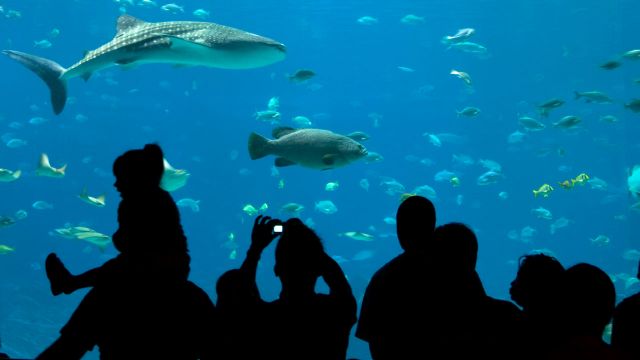 Atlanta, GA
It's almost time – the new Georgia Aquarium is scheduled to open this fall! Thousands of fish have been relocated and whale sharks shipped across the ocean for opening day, Wednesday, November 23, 2005…just in time for Thanksgiving.

No doubt many families will make a visit to the Georgia Aquarium a welcome part of their holiday schedule. Who wouldn't enjoy seeing the spectacular results of this ambitious project that began several years ago with a very generous gift ($200 million) from Bernie Marcus, co-founder of The Home Depot; the Aquarium's nine acres were previously donated by Coca Cola. Atlanta's Georgia Aquarium will be the largest and most engaging aquarium experience in the world with more than 100,000 animals from 500 different species in over 8 million gallons of water!

The Georgia Aquarium is located in downtown Atlanta, next to the new World of Coca-Cola Museum which is scheduled to open the summer of 2007, across the street from CNN Center, the Georgia World Congress Center, Centennial Olympic Park and Imagine It! Atlanta's Children's Museum.

The Aquarium will anchor downtown's revitalization efforts and expects to attract more than 2 million visitors in the first year. In addition, more than 200 job opportunities were created to work side by side with hundreds of volunteers. This entertaining and exciting experience for aquarium visitors is the result of a dynamic team from many fields working together to inspire, entertain, and above all…educate.

The Aquarium hopes to instill a new appreciation for the world's aquatic biodiversity, while promoting a fun and entertaining learning experience. At the same time, the Georgia Aquarium will add a new dimension to Georgia's education curriculum with twenty-five percent of the public floor space dedicated to educating students of all ages. 70,000 schoolchildren are expected to participate in the Aquarium's educational programs each year, utilizing innovative technologies as well as interactive and interdisciplinary techniques to ensure students have an enjoyable academic experience. On a more global scale, the Georgia Aquarium will support, conduct and lead research on environmental and conservation issues.

The actual size of the new facility is 550,000 total square feet, of which 505,000 is covered space…but there are only two things by which an aquarium is measured – the amount of water and the number of fish. These numbers bear repeating…with more than 8 million gallons of water and more than 100,000 fish, the Georgia Aquarium has no equal!

Six million of the more than eight million gallons are in the whale shark habitat, a single habitat built specifically to accommodate whale sharks, the largest fish in the ocean. At its longest, widest and deepest parts, the habitat measures 263' long x 126' wide x 33' deep.

In keeping with a commitment to be a world leader in the conservation of aquatic wildlife, the Georgia Aquarium submitted an application to provide a new home for two male Beluga whales residing in an outdoor exhibit at an amusement park in Mexico City since 1998. Bringing these whales to live within the facility is exactly the kind of relocation the Aquarium team envisioned and hoped they would be able to provide.

The Georgia Aquarium was designed with a state-of-the-art animal health facility, including a veterinary hospital that is unique within the aquarium industry. The Aquarium's professional staff, with a combined 60-years experience, has participated in marine animal rescues, animal behavior enrichment and conservation programs. To move the whales from Mexico City, The Georgia Aquarium requested a permit from NOAA Fisheries, a federal agency and a division of the Department of Commerce.

Beluga whales (Delphinapterus leucas) are gregarious animals that are entirely found in arctic and subarctic waters. There are between 50,000 and 80,000 in the world today, most of them about 15 feet in length, and weighing up to 3,300 pounds. Beluga whales become white as adults; they have teeth and a single blowhole. They are called the "canary of the sea" for the sounds they make, which can be heard outside the water. As with all marine animals, they are protected by the Marine Mammal Protection Act of 1972. They are not listed under the Endangered Species Act of 1973 and more than 30 Beluga whales presently reside in US aquariums.

All aquatic residents are now inside their new home and doing well: giant trevally, batfish, golden trevally, sea goblins, white-spotted guitarfish, giant grouper and bowmouth guitarfish, to name a few. UPS transported the fish, including the two whale sharks from Taiwan. The Georgia Aquarium is the only place in North America to have these fish and the massive effort to transport them took over one year from planning to execution!

The extraordinary measures necessary to reach opening day were due in part to the Georgia Aquarium leadership and its sponsors: AirTran Airways, BellSouth, Georgia-Pacific, The Home Depot, Southern Company and SunTrust Banks. These corporations fully understood the impact of their sponsorship for Downtown, for the city of Atlanta and for the state of Georgia…and that their participation would expose their brand and products to the millions of visitors to the Aquarium each year.

Aquarium sponsors were also excited about the innovative and interactive educational opportunities at the Aquarium. The educational programs will be conducted in an immersive learning environment designed exclusively for students and teachers. The programs hope to engage students using animal encounters, interactive activities, and research applicable to real-world situations. These lessons, which are aligned with the Georgia Performance Standards, will promote students' academic success and satisfy their curiosity about the aquatic realm.

But first…opening day on November 23, 2005! It will be an awe-inspiring sight and second only to scuba diving on the world's most fantastic living reefs. Atlanta has a new attraction and it's destined to be an aquatic champion. If you would like more information or are interested in becoming a volunteer for the Georgia Aquarium, log on to georgiaaquarium.org and dive in!