The Georgian Terrace Hotel is located in the heart of Midtown Atlanta, the hotel is within walking distance to public transportation.
By | May 13, 2015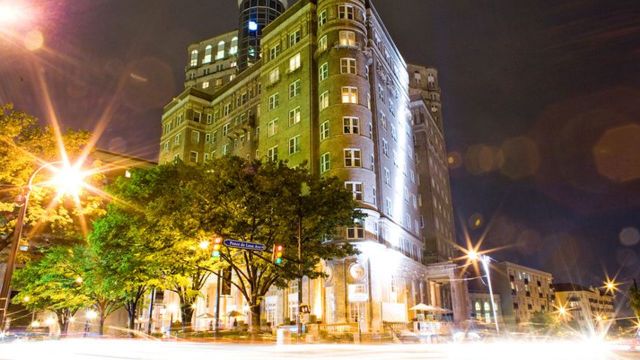 Atlanta, GA
Listed on the National Register of Historic Places, The Georgian Terrace Hotel built in 1911 and the "in place" for Atlanta events, including hosting the world premier reception for Gone With the Wind in 1939. Located in the heart of Midtown Atlanta, the hotel is within walking distance to public transportation, (MARTA), restaurants, clubs, entertainment, and museums from A to Z.

Upon arrival I was greeted with that infamous Southern Hospitality. Check-in was fast and seamless. As I started walking toward the elevator I had to stop and take a visual of this French Renaissance architecture. The lustrous marble, polished woods and Palladian-styled windows accentuate this 1900's beauty. Add to that a newly added glass atrium with furnishings popping in color; I could no longer wait to see my guest rooms/suite.

My one bedroom suite was a continuation of my lobby experience. My suite was spacious with a rich tapestry of antique-style furnishings in the separate living room filled with light from the over-sized windows with a glorious view of Peachtree Street and the excitement of Midtown Atlanta. My queen size bed was comfortable with European style pillows and covers. The oversized bathroom; really huge, had the typical amenities plus plush oversized towels and robes. Along with the coffee maker and microwave was a full-sized refrigerator and electric range/oven, (which did not get used with so many restaurant choices within walking distance). I felt like I was in a luxury apartment; not in a hotel.

Carrying on the architectural theme of white marble walls and carved stone in Livingston's Restaurant is not to be missed. Al fresco dining at Mims offers terrace seating with a view of bustling, world famous Peachtree Street.

See Atlanta's day begin and end at the Georgian Terrace. The rooftop pool is wonderful at sunrise as well as after dark when the city lights sparkle!