It's an exciting time in Atlanta dining, with a revitalized buzz after a few somewhat slow, more conservative years.
By | February 26, 2013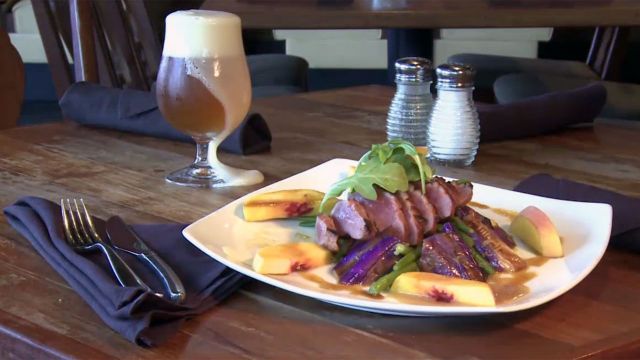 Atlanta, GA
I just spent the better part of a week in Atlanta, doing what it is I do there, which is dine, dine, dine. It having been nearly a year since my last visit, I had plenty to explore––so much that I didn't even get to stop by a few old favorites, like I usually do, or get over to Decatur, like I usually do.

It's an exciting time in Atlanta dining, with a revitalized buzz after a few somewhat slow, more conservative years. Great dining has picked up the pace again, and though the trend towards a "true Atlanta flavor and dining style" continues, the settings have once again turned glamorous and set to impress. Here is a rundown on some of the best places I tried.

For cocktails, The Lawrence in midtown, a gastropub of sorts has rising star mixologist Eric Simpkins steering the drink list. I particularly loved his Lady Lawrence (vodka, cassis, lime, ginger, soda, and lavender mint tea). At the gorgeous gem of a hotel, The Georgia Terrace (across from the Fox Theater), look for the basement pub Proof & Provisions for another mixologist to watch, Nate Shurman, won me over with his divine concoction of vodka, hibiscus liqueur, lime, and lemon-jasmine-honey syrup called Such Sweet Breath. These two watering holes spin booze into wonder-drinks, and these mixers are true chefs of flavor and balance in a glass.

My best dining "reunion" of sorts was with chef Joe Truex (formerly owner of one of my favorite Atlanta restaurants of all time, Repast) who has reinvented Scott Peacock's Watershed (originally in Decatur, now in Buckhead). I loved the charred, French country bread, the jumbo sea scallop "schnitzel" (with anchovies, capers, fried quail egg, grebiche), and the milk cake with salted caramel for dessert.Watershed is incredible, and the wine list terrific.

Recently named one of the best new restaurants in the country, The Optimist on the West Side was a large, boisterous cavern of enthusiastic dining and diners. I wouldn't recommend it for a date (too noisy!), but the messily-delicious Georgia shrimp in a chili-lime sauce with "mopping toast", the garlicky clams appetizer, and the crisped long beans with buttermilk-dill mignonette all justified the hype this place has gotten lately.

Finally: one dish that was sheer perfection and shows what a restaurant can do with the most familiar ingredients was the salad of shaved celery, apples, whole parsley leaves, and a pistachio vinaigrette at One Eared Stag in Inman Park (formerly Shaun's). I had a food hangover by that time (and, ok, a regular hangover, too) but this perked me up and reminded my why I love Atlanta dining so much: it makes fresh and straightforward seem modern, every year and every season.