Oktoberfest in Helen, GA
Helen, Georgia is a recreated Alpine village plopped into the middle of Georgia.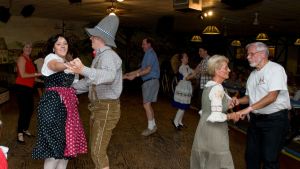 Helen
Though Helen, GA is only a 70-mile drive from Atlanta, upon arriving there for the annual Oktoberfest, you'd think you had somehow crossed the Atlantic, went over the Alps, and into Bavaria!

Entering Helen you find yourself surrounded by buildings that convincingly mimic the design and layout of a "typical" Bavarian Alpine village. Built of materials similar to those used in the original - rough-hewn stone, exposed timbers, cobblestones, brightly colored paint - Helen has been transformed.

The town's community and business leaders made the decision nearly thirty years ago to renovate and market Helen as an Alpine village somehow descended into the heart of Georgia's Blue Ridge Mountains... and they haven't looked back.

Something was needed to replace the town's earlier bankrupt industries, and the re-creation of an Alpine village in the heart - and heat - of Georgia was a stroke of brilliance. Helen quickly became a popular tourist destination, and with the continued growth of amenities in an area that boasts an over-abundance of outdoor recreational opportunities, Helen is sure to remain popular for years to come.

Part of the authentic feel of Helen is inspired by the Chattahoochee River, which runs the through the center of town. For anyone who's been in the Bavarian Alps, the sight of south German buildings lining cobblestoned streets alongside a quick mountain river evokes an odd and instant sense of deja vu.

There's even a Hofbrauhaus sited on the river bank where thirsty visitors can drink a hearty German beer while soaking up a beautiful vista and enjoying European dishes.

For the past 30 years, during September and October, Helen has staged an Oktoberfest replete with lederhosen-clad bands, dancing ladies in dirndl skirts, and beer, beer, beer!

Bands perform on the Festhalle... this fall these include bands that perform traditional Bavarian-style beerhall music, like the Stratton Mountain Boys and the Alpen Musikanten. If you've never experienced the full force of a German oompah-style band, you're in for a surprise! They're happy, loud, and the music is infectious.

Helen's Oktoberfest has become such a festival-circuit staple that hotels and guest houses fill quickly, so you'd better start booking a hotel now. Oktoberfest began on September 13th, but really picks up as October's cooler temperatures color the leaves of north Georgia in vibrant gold, red and orange.

There's also a small market square in town that features retail shops, art galleries, and specialty food items. The illusion of an Alpine village is continued throughout these shops and galleries, with each acting as a bridge to the Bavarian culture that defines Helen.

Helen's retail community is as varied as the architecture is similar. Sure, there are shops that cater to the Alpine theme, with gift items and souvenirs that emphasize Helen's unusual nature... and while these are popular and almost everyone who visits ends up with something from them, there are plenty of other retail businesses in town.

In Helen you can shop the Amish Red Barn for original Amish handmade crafts, artwork, and furniture from Pennsylvania. The Artisans Market features outdoor fireplaces, decorative pottery, wrought-iron candleholders, sterling silver jewelry and much more.

Helen is an unusual and unique Georgia landmark, and the Oktoberfest staged there every year a guaranteed good time - for the entire family!