Did you know that 76% of the world's fisheries are either fully or nearly overfished? Including 41% of this country's own?
By | October 14, 2013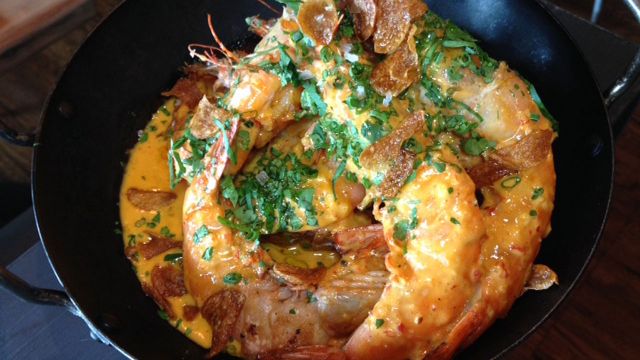 Atlanta, GA
As I write this, I'm returning from a trip to Atlanta, where I filmed my Top 5 Best Sustainable Restaurants. The weather in the city was incredible. I had the chance to visit the Grant Park Farmer's Market, where I enjoyed fresh ginger beer, a pumpkin and a pistachio donut from Revolution donuts in Decatur, organic Georgia apples, and a semi-sweet, rosemary granola I'm carrying a bag of home to Key West. It was a glorious day and the park was packed with people, and with vendors selling artisan charcuterie, cheeses, yogurt, popsicles, honey, and seasoned salts. Later that same day, I visited the Botanical Garden, where living plant sculptures by Mosaiculture of Montreal are displayed, including a humungous forest goddess and two rearing cobras that are to become part of the permanent collection there. I also, I admit, shopped a lot, both at Atlantic Station and in Buckhead, as well as at Trader Joe's.

It was a great time to be in the city, and I was once again immersed in the current dining scene there. For my show, I went back to some restaurants I've eaten at for years and have been waiting to feature, including chef Hugh Acheson's Empire State South, chef Scott Serpa's namesake restaurant, Serpa's, Fifth Group's Lure, and Ford Fry's The Optimist––as well as one small neighborhood gem that I will let be a surprise.

Did you know that 76% of the world's fisheries are either fully or nearly overfished? Including 41% of this country's own? This means that at the current rate, we will deplete the world's seafood––just as more people are starting to enjoy the taste of seafood. The earth, too, is suffering, with farmlands depleted of the nutrients necessary to thrive. It simply cannot continue thus, and as a person who loves good food and appreciates ingredients, I decided to focus on restaurants addressing these problems. The trends toward depletion do not need to continue. What it requires is education. Seafood consumers can learn what species of fish are renewable, like oysters, and trout, and catfish, and also, what areas are safe and sustainable to fish, versus those that are not. Websites like that of the Monterey Bay Aquarium and the Georgia Aquarium (which has a Seafood Savvy program) post up to the minute information for consumers to check.

At a sustainable restaurant that work is already done. The chefs do the research and responsible purchasing. Then, they combine that fine seafood with local ingredients, most of it organic, and flavors from all over the world and from their own experience in kitchens. I can assure you, it's the best dining around. I experienced it myself. I tasted beets combined with Georgia-made feta, pickled eggs and horseradish; a cured and smoked steelhead trout over a juniper cream with thyme-seasoned breadcrumbs, and a celery root and wheatberry salad I could gladly eat every day. Every single restaurant I dined at impressed me––not only the ones I featured in this show. The best ones are ALL on board with sourcing locally, keeping their carbon footprint low, and maintaining strong ties to family farms and family fishermen, small dairies, artisan producers, and others who love good food and want it made in a healthy environment.

More than the weather, or the donuts, or the shopping I love this about today's Atlanta. Stay tuned for the show. It will be out before the end of November.