Check out this list of my top ten favorite activities in Atlanta, GA!
By | April 14, 2014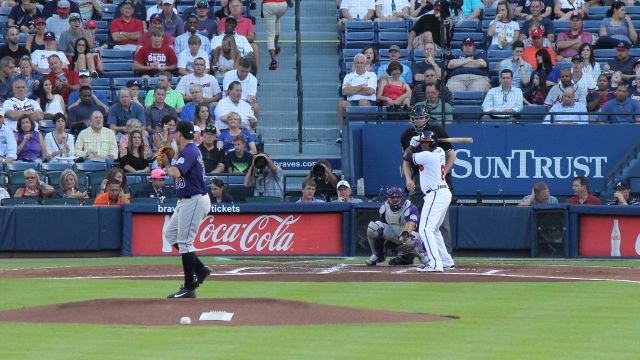 Atlanta, GA
Check out this list of my top ten favorite activities in Atlanta, GA!

Georgia Aquarium
Featuring the largest single aquarium habitat in the world (6.3 million gallons) and more aquatic life than any other aquarium in North America it's no surprise why the Georgia Aquarium has attracted more than eighteen million visitors since opening its doors in 2005. The Georgia Aquarium is the only Aquarium in the western hemisphere to feature whale sharks and is also proud to offer guests five animal interactive programs. Don't miss your opportunity to get face-to-fin with dolphins, whale sharks, beluga whales, penguins or sea otters!

TopGolf Alpharetta
It's been a long time since I was genuinely excited about a new attraction but TopGolf Alpharetta is truly going to be a welcome new attraction for the City of Atlanta. TopGolf is a premier golf entertainment complex opening Spring 2014. This unique shooting range/sports bar/local hangout features computer chips embedded in the golf balls which allow you to track and score your shots. Challenge your friends and family to addictive point-scoring golf games that anyone from the hopeful pro golfer to your neighbor's 7-year-old kid can play year-round. Did I mention there is cocktail/food service to your shooting lane as well?

Atlanta Falcons
With the New Atlanta Stadium plans underway the clock is ticking for football fans to watch the Atlanta Falcons in the historic Georgia Dome. The 2014 preseason is set to kick off with a great match up against the Miami Dolphins. This will be the 12th time the two teams have met in preseason. Let's hope 2014 is our season. Let's Go Falcons!

World of Coca-Cola Atlanta
Atlanta's must-see destination in Pemberton Place offers locals and visitors alike an experience unlike any other. The World of Coca-Cola Atlanta is the only place in the world where you can taste a variety of 70 different beverage products, create your own unique beverage, meet the 7-foot tall Coca-Cola polar bear, experience the thrilling 4-D theater, and tour the gallery dedicated to Coke and its 125 years of history & pop culture.

Atlanta Braves
It's baseball season! Nothing beats drinking a cold beer, eating a hot dog, and watching the Braves knock em' out of the park at Turner Field! How lucky are we to have the BEST team in baseball?!

Local Events/Concerts
It's no secret that Atlanta is home to some of the biggest concerts and events in the Southeastern United States. Although The Fox Theatre, The Tabernacle, Aarons Ampitheatre, Variety Playhouse, and The Masquerade are the most well-known concert venues the City of Atlanta also hosts a variety of free music festivals including the annual Jazz Festival at Centennial Olympic Park. Notable events to check out are the Atlanta Dogwood Festival at Piedmont Park, SweetWater 420 Fest, The Georgia Renaissance Festival, the Atlanta Food & Wine Festival, and Taste of Atlanta.

Opera Nightclub
Opera is well known in Atlanta as one of the best dance clubs in the city. From a great VIP area to the best local DJ music, Opera creates an atmosphere of sophistication and class making it a great spot for a fun date or a night out on the town with friends. Beyond your typical nightclub, Opera Nightclub also hosts numerous private events throughout the year. Most recently the club won its 6th Allie Award for Best Social Event for Living Social, Sumo + Sushi Event, which was held this past March.

Quickshot Indoor Shooting Range
If firing off a few rounds with a full-auto AR-15, AK47 or UZI sounds like a good time then be sure to check out Quickshot Indoor Shooting Range. The staff is extremely friendly, professional, and fully certified to insure your safety while you shoot any one of their full or semi-auto firearms within the arsenal. Full Auto Fridays is the day to go, rent one full auto gun and get a free rental on a second full auto gun. As Al Pacino said in the memorable scene from the cult movie, Scarface... "Say hello to my little friend!"

Dining Out
Atlanta is a foodie haven. With cuisine options ranging from trendy food trucks, traditional Indian, to good ol' soul food you are guaranteed to find the food or dish that you are craving. For me, nothing beats a great steak. Our host Margit Biztray recently reviewed her Top 5 Best Steakhouses in Atlanta which featured McKendrick's, BLT, Rathbun's Steak, CHOPS, and Bones.

Beer Tasting
Atlanta is home to two well-established breweries including SweetWater Brewery and Red Brick Brewing Company. Both offer fantastic annual/seasonal brews year round in their individual bars but it's no surprise that great breweries also attract great beer pubs… After a long week there is a multitude of choices in Atlanta that are sure to quench your thirst. Some of my favorite spots include the Porter Beer Bar, Wrecking Bar Brewpub, Ormsby's, and the Brick Store Pub.