Here are my ten favorite places to eat breakfast in in Atlanta, GA!
By | September 15, 2014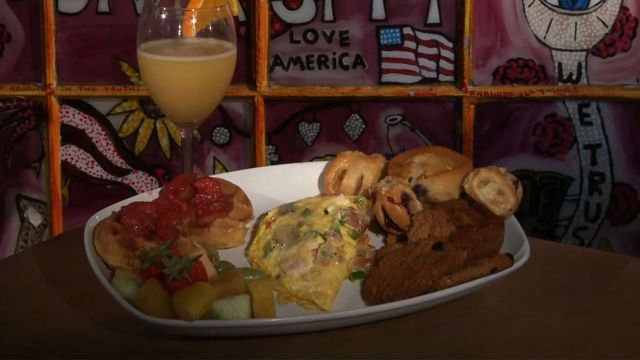 Atlanta, GA
Here are my ten favorite places to eat breakfast in in Atlanta, GA!

American Roadhouse Restaurant
Let me begin by telling you they serve breakfast from 7AM until they close at 3PM. For the light breakfast eater make it steel-cut oatmeal with house-made granola and yogurt. For those a little more daring; try the Red Flannel Hash with soft-poached eggs, and the multigrain pancakes. Wash it all down with a smoothie, and you're good to go!

Delias Chicken Sausage Stand
Primarily a take-out spot, you will find a small sheltered outdoor area with table and chairs to enjoy this perfected organic, hormone free, preservative-free chicken sausage. All dishes are prepared in a fun and memorable way. Most ordered items are, the Slinger, the Slider, and the Double D Delight made with an infamous Krispy Cream Donut, cream cheese and chicken sausage patty. As Delia will tell you, "It's so cluckin good! Two thumbs up for the coffee.

Java Jive Coffee House & Café Restaurant
Previously a circa 1950-60's restaurant, their recent renovation has brightened up the restaurant a notch and their food continues to be over the top as it has been for many, many years. My two regular orders are their whole-grain, whole-wheat pancakes with warm, real maple syrup, and only available on weekends, ginger waffles. What you must know: Weekday hours are 8AM to 2PM. Weekends 9:00AM to 2:30PM
Cash ONLY. There is an ATM machine on location.

R. Thomas Deluxe Grill
Folk Art, Whirligigs twisting and twirling, organically grown flowers and plants personally taken care of by owner Richard Thomas make this dining room -- which is actually a climate-controlled patio. R. Thomas satisfies a wide range of dietary concerns. From vegetarian to vegan to gluten-free as well as good ole southern cooking. Great food in a great atmosphere with guaranteed people-watching entertainment.

Empire State South
The minute you walk in the door the aroma of the Counter Culture Coffee (from North Carolina) hits you. Can't get a cup fast enough! Don't let the line scare you. It moves very fast – all these people are taking the delicious coffee up the elevator to their offices. Breakfast begins with Georgia-produced yogurt, local eggs and stone-ground grits, homemade biscuits, and their infamous house-made pimento cheese. Lots of delicious choices buy my pick is Fried Chicken Biscuit with pimento cheese and bacon!

Highland Bakery Restaurant
Highland is a unique metro institution known for making all of its breads from scratch. They grind the grains for the flour and the corn for the grits on site. Slowly grinding the grains at a low temperature preserving the nutrients which you know immediately on first bite! They serve several versions of eggs Benedict. My favorite is the one with the fried chicken and a jalapeno cheese sauce on an English muffin. Not so hungry? Look under the glass covered stands for cakes, cookies, or their infamous scones. Grab some coffee and you're good to go.

Ria's Bluebird Restaurant
Ria's serves breakfast all day but keep in mind they close at 3PM daily. My favorite pick here are the topnotch pancakes with toasted pecans with a caramelized banana treatment! Their softly poached eggs perched atop good grits with some spicy cream gravy, nice fluffy biscuits, is a perfect southern delight.

Home Grown GA
The owners and Chef at Home Grown GA keep a watchful eye on quality and locally produced materials; and the restaurant is vegetarian and vegan friendly. The line-up of their biscuit sandwiches is lengthy. If it's your first visit there; go with a friend or two, or three, or four and all order different; then share. For me, it's difficult to pick a favorite. I love them all!

The White House Restaurant
Serving the local community since 1948 this restaurant continues to be a favorite of the locals with some Southern favorites like eggs, grits, and pork chops. Add to that their fluffy biscuits with chicken and gravy. You can tone it down a bit with their specialty Whitehouse Hot Cakes or French Toast, with may side offerings. Or you can keep it really simple and light with their array of breakfast biscuits. They also offer a children's breakfast menu so prepare yourself for many children on the weekends.

Metro Café Diner
Open 24 hours a day, this is one of my all-time favorites with a typical 60's diner breakfast menu, as well as breakfast items that have moved and changed with time. But there are those of us who don't want the typical breakfast list during breakfast hours. This is what I love so much about Metro Café Diner, you can order breakfast, lunch, dinner, or get that sweet tooth fix from their out-of-the-world cakes and pies. Have anything on their menu at any time and know that it is always served to perfection.