Here are my ten favorite places to eat outdoors in Atlanta, GA!
By | November 17, 2014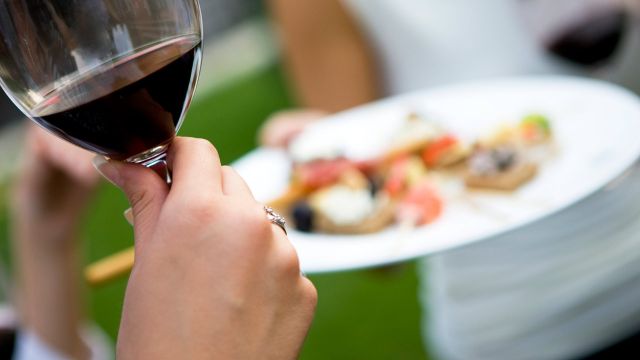 Atlanta, GA
Here are my ten favorite places to eat outdoors in Atlanta, GA!

Canoe Restaurant
Sitting on the flows of the Chattahoochee River, this is where the Units of the Union Army crossed the river on their way to the Battle of Atlanta. An upscale menu with seasonally driven dishes, entrees could range from grilled Atlantic Salmon, to slow-roasted Carolina rabbit with bacon ravioli. Beautiful views from indoors as well.

Fritti Restaurant
With an extensive pizza menu for both lunch and dinner, you'll also find guests happily munching away at crispy friend eggplant croquettes in a tangy house-made marinara sauce or enjoy arancini and fried calamari with lemon. Pizza Pies are indeed the deferring dish. Pizzas don't arrive sliced; however staff will assist at the table if

Flip Burger Boutique
This Poncey -Highlands location has a roof-top patio. My favorite among the unuusal burgers is "rBQ." Southern pulled barbecue brisket on top of a burger smothered with coleslaw, Carolina style. Or play it safe with plenty of traditional burgers (all grass-fed beef). Be sure and order a side of crispy battered onion rings with a house-made beer mustard for dipping.

Java Monkey Restaurant Decatur
Small and quaint, lovely patio, and a Euro Café feeling you'll find all the locals here whether it be breakfast, lunch, or dinner. You'll find mouth-watering baked goods on the breakfast menu along the standard breakfast fare. Lunch and dinner you'll find lists of panini and other sandwiches. Be ready for conversations about politics to music at the wine bar; a very engaging crowd.

Haven Restaurant & Bar
Do not let the noise level scare you away, head straight to the patio to have an audible dinner conversation. Seasonal rhythms and local ingredients are the shout-outs for this menu such as ramp vinaigrette on vegetables for starters with a grilled heritage pork chop with a grits soufflé and roasted turnips. Need a protein hit? They their grilled tenderloin with scrambled eggs, hash browns, and béarnaise sauce. Don't forget to order Crème Brulee for dessert.

Googie Burger Restaurant
Smack dab in the center of Atlanta's Centennial Olympic Park. Burgers and Hot Dogs are the favorite here with hand-cut fries cooked in peanut oil are delicious as are the giant French onion rings. Have a milk shake topped with whipped cream, grown-ups may spike theirs with alcoholic additions. Try a fried pickle as well. Vegetarians will find a great menu as well

Ray's on the River
Sitting on the banks of the Chattahoochee; spectacular views of the riverscape matches their spectacular views. Georgia trout and grouper cooked to perfection. Take it a step further with ginger-soy tuna paired with bok choy and shitake mushroom jus. For the beef affectionate, hand-cut steaks exceed the fare. I could make a meal out of all the side dishes, such as cauliflower gratin. Save room for dessert, and I highly recommend their Praline Basket.

Krog Bar Restaurant
At the old Atlanta Stove Works you'll find progressive and adventurous wine bar specializing in small plates (tapas) to pair with wines. Most cheeses are from Spain as are many of the cured meats. There are some Italian slants to the menu as well, such as the seared duck breast with fig. The best seating in this restaurant is the upholstered banquettes lining the outdoor patio. So very comfy!

Paper Plane Restaurant Decatur
Located in a simple slip if a cobbled alleyway with strings of light setting the atmosphere, this is the preferred place to sit for intimate conversation vs. dining downstairs in the pub where noise conquers all. The favorite here is without a doubt is the pork chop which comes sliced off the bone, cooked to perfection. Add the turnip greens and cornbread, a southern delight. My choice for dessert is the chocolate cake elevated by a smoked banana ice cream that is made in house.

The Shed at Glenwood Restaurant
This trendy, hip yet quiet restaurant draws people for all over the city of Atlanta to this neighborhood-friendly spot with action views of the street scene. You will enjoy an extremely diverse menu with something for everyone that changes regularly. The roast beef salad is a mainstay as is their Thursday's "Brewer's Dozen;" 12 oysters paired with beer. Vegetarians will enjoy their four-vegetable place. Save room for dessert!