Ten Best Places to Shop In Atlanta
Here are my top ten favorite places to shop in Atlanta, GA!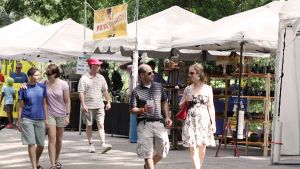 Atlanta
10. Underground Atlanta
Centered in the middle of downtown, Underground Atlanta is a popular tourist destination that serves shopping with a piece of history and a side of entertainment. Over six blocks of shopping all tucked away below street level, on the original streets of Atlanta. At Underground you will find artists painting caricatures, live entertainment, homemade candy, delicious dining and superior souvenirs. Take a guided tour to learn more about Underground and the history of Atlanta.

9. The Avenue at East Cobb
If you are living or visiting the Marietta area, fighting the traffic into Atlanta isn't worth the fight, but that doesn't mean you can't shop! The Avenues offer approximately fifty retail shops including Pottery Barn, Williams-Sonoma, Borders, Banana Republic, Harry and David and many more, all in a attractive outdoor complex.

8. Vinings Jubilee
Outdoor shopping at its best! The quaint village look is complete with a clock tower, brick sidewalks and iron street lamps. All of which make shopping here feel like a walk in the park!

7. Luna
For trendy contemporary designer duds and denim, Luna in Buckhead is one boutique that you won't want to miss! Locate Luna at 3167 Peachtree Road.

6. The Atlanta Merchandise Mart
This is where the deals are made -- and had. A typical sale at the merchandise mart will include samples that were made for showcasing the line to buyers, so sizes available generally run from 0-8. In a separate building of the Atlanta Mart you will find furniture, home décor and gifts. The mart is only open certain days for people outside of the fashion industry, but, if you can gain a pass in it's like finding the golden ticket.

5. Blue Genes
Finding a great pair of jeans is such a task! And these days with denim going designer, you definitely want to pick the perfect pair for the price you have to pay. Since Blue Genes carries every great brand imaginable you'll be sure to find what you need without the hassle of driving from store to store. Even better if you bring in a pair of your old jeans for their recycled denim section you will receive a discount on the purchase of a new pair. You can also shop the recycled section in hopes of finding an already broken in pair at a fraction of the price. Blue Genes also carries tops, dresses, accessories as well as children's and men's clothing. Find Blue Genes at 3400 Around Lenox Road.

4. Virginia Highlands
This historic neighborhood is one of Atlanta's favorite destinations for shopping and dining, and with good reason, the quaint brick buildings and streets provide a Mayberry atmosphere combined with trendy boutiques and some of the hottest restaurants in the city. Shoppers will love the variety in the villages of the Virginia Highlands from contemporary apparel to kitschy antiques, folk and pop art, hand made home décor, and high-end designer furniture. On weekends you will find local artisans selling their craft at the outdoor market. So go and enjoy the art and company of the locals.

3. Atlantic Station
When the weather outside is nice and you feel like a stroll, ditch depressing malls and make your way to Atlantic Station. This retail complex features brick streets, beautiful landscaping and small town street lamps to make shoppers feel they are anywhere but a mall, or a big city. Atlantic station is a live-work-play concept featuring apartments, restaurants, a movie theater and plenty of room to host traveling exhibits. Though it can get cold this center is especially beautiful when decked out in festive lights and décor for the holidays.

2. Lenox Square Mall
In case you didn't get your daily dose of luxury shopping met at Phipps then head over to Lenox just across the street. These two malls compliment each other well, as you will not find many duplicate retailers. Lenox Mall is anchored by retail giants Bloomingdale's and Macy's.

1. Phipps Plaza
If you have the money honey spend it! Phipps Plaza is situated in the heart of Buckhead (one of Atlanta's wealthiest neighborhoods) so you would only expect this mall to match the million dollar mansions of the area. Department stores include Saks and Nordstrom, but in between these you will find three stories filled with indulgent shopping from the world's most luxurious (read: expensive) brands.