Check out our list of the top ten most interesting facts about Atlanta, GA!
By | February 17, 2014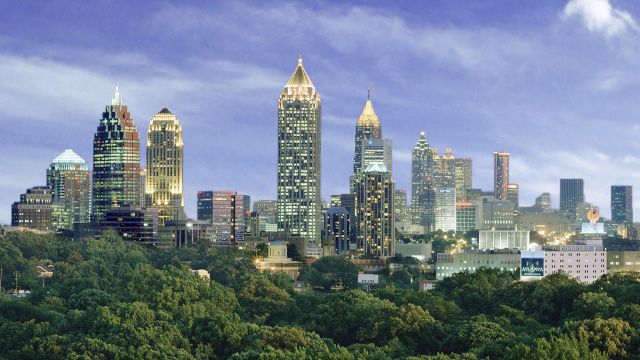 Atlanta, GA
1. Atlanta has become the fifth city to be the capital of the state of Georgia. It was preceded by Savannah, Augusta, Louisville, and Milledgeville.

2. Atlanta is represented as a symbol of the mythological Egyptian bird called the Phoenix. A historic fire incident that was deliberately set to destroy the city justifies the representation. Atlanta, like the Phoenix, rose from the ashes to become an influential city.

3. There are more than 65 streets with the word Peachtree in Atlanta.

4. Buckhead, one of Atlanta's most affluent neighborhoods and shopping mecca of the South, owes its unusual name to 19th Century local general store owner Henry Irby. Irby killed a large deer and prominently mounted the buck head on the wall of his establishment, a popular outpost for locals and travelers. The name stuck, despite efforts to change it in the late 1800s.

5. The Eastern Continental Divide, a continental divide in the U.S. that separates the Gulf of Mexico drainage from the watersheds that flow directly into the Atlantic Ocean, runs right through downtown Atlanta and then east and through Decatur. Rainwater that falls on the south and east side of the divide runs eventually into the Atlantic Ocean while rainwater on the north and west side of the divide runs into the Gulf of Mexico.

6. The tallest building in the United States not located in either New York City or Chicago is located in Atlanta, Georgia. The Bank of America Plaza stands at 1,023 feet tall and dominates the city's skyline. One of the interesting parts of the design of the building is that there are no street level pedestrian entrances, most people enter and exit the building from the parking areas located underground.

7. In Atlanta, it is against the law to tie a giraffe to a telephone pole or street lamp.

8. Atlanta is one of two cities in the world to be home to two Nobel Peace Prize winners: Martin Luther King Jr. & President Jimmy Carter.

9. Atlanta is famous for having the largest toll-free dialing area in the world, the most shopping center space per capita along with Chicago and the world's largest 10K race known as "Peachtree Road Race" that sees 45,000 runners annually!

10. In terms of the largest concentration of the Fortune 500 companies in USA the city of Atlanta ranks third.