The Virginia Highlands neighborhood in Atlanta is famous for restaurants and culture.
By TripSmarter.Com | March 21, 2013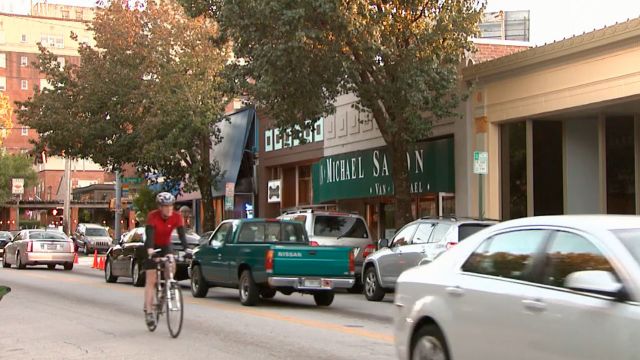 Atlanta, GA
If you take a stroll through Atlanta's Virginia Highlands, you'll find narrow streets, beautiful front yards, interesting coffee houses, unique bars, eclectic art galleries, and last but not least . . . Restaurants! From early morning until late evening there are people strolling the streets of Virginia Highlands which is centered around two main streets: Virginia Ave. and N. Highland Ave. These two streets were the beginning of a growing intown neighborhood that has become known as the perfect place to go for breakfast, lunch and dinner, as well as excellent shopping.

People in the Highlands do a lot of walking around, so it's no wonder that they work up an appetite. One of the most appealing parts of Virginia Highland is the restaurant scene. Start your day right with a hot cup of coffee from the Highland Bagel Co., and enjoy a breakfast pastry from Caribou next door. If it's a full breakfast you're looking for you can only find it at American Roadhouse a little further up the street.

Virginia Highlands offers half a dozen choices for an early morning munchie, a full course breakfast, or a hard-core espresso bar. After breakfast it's time to take in some of the most interesting galleries you'll find anywhere. However, in Virginia Highlands, they are concentrated on N. Highland Ave.

Whether it's the perfect piece to complete any decor, original art, or jewelry by fabulous local artists, it's all just waiting to be discovered by even the pickiest art enthusiast!

Lunch is sure to be a treat at George's Deli where you can find Atlanta's juiciest, most mouth-watering burgers... or mosey on down to St. Charles Deli offering outstanding prices and awesome brunches.

Smokin' Stogies, Books, collectibles, fine art, rockin' music, bridal wear, flowers, home furnishings, clothing, jewelry, pottery, vitamins, gifts and even psychic readings. Boredom is not an option while taking a leisurely walk through the Highlands.

As the sun goes down, dining takes on a more serious nature with endless choices in casual or fine dining. Terra Cotta is the perfect example of fine dining found a little off the beaten path. Its owners took a dilapidated, ugly house and turned it into an exquisite dining experience surrounded in impeccable taste.

If you're looking for a taste of Thai, then go no further than Surin of Thailand, the most successful ethnic restaurant in Atlanta. But, no restaurant captures the most exact architectural representation of the neighborhood than Harvest... serving up countless choices in seasonal cuisine nightly.

...The night doesn't have to end there. If you're looking for the perfect night cap, you'll find it at Atkins's Park, the oldest place in the neighborhood and the perfect place to sit back and relax with a cold drink in your hand. Or if you're in the mood to "sing the blues," then Blind Willie's is the place to be. The nationally renowned blues room is yet another part of Virginia Highlands that captivates audiences from miles around.

Although there is an assortment of activities for people of all ages, Virginia Highlands is most attractive for its friendly, laid-back atmosphere. It is truly one of Atlanta's most dynamic communities easily accessed by car, bicycles and of course, on foot. And if you're in the mood, just sit back in one of the many great people-watching spots and take in the scenery. After all, that is what makes this neighborhood so special...the people!