Atlanta Arts Festival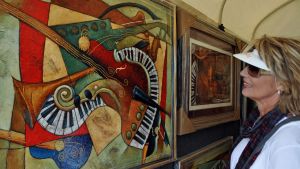 Atlanta, GA
A perennial fall favorite, the annual Atlanta Arts Festival is an arts haven for considerable collectors and scene-seekers alike!
When:
September 19 - 20, 2015
Where:
Piedmont Park
400 Park Dr NE
Atlanta, GA 30306
Returning to Piedmont Park September 19th and 20th, Atlanta Arts Festival crafts an eye-popping experience that combines a mix of artwork from some of the nation's most renowned artists in a beautiful setting, offering visitors the quintessential arts and cultural experience.
Piedmont Park
400 Park Dr NE
Atlanta, GA 30306
Ranked among the top 200 art festivals in the country in sales for both fine art and fine craft by The Art Fair Sourcebook, the Festival has grown by leaps and bounds over the past four years. This fall, revel in the ultimate sensory experience for all ages with 200 artists in 12 different mediums, artist demonstrations, live music and entertainment and much more.
Click here for the full Atlanta Festival of Arts schedule.
The Atlanta Arts Festival's mission is to bring together outstanding artists from all over the country with the large and enthusiastic art buying community of the Atlanta area. AAF will feature 200 of the country's finest painters, photographers, sculptors, leather and metal craftsmen, glass blowers and more!
For more information visit: AtlantaArtsFestival.com.