New Year's Eve in Atlanta!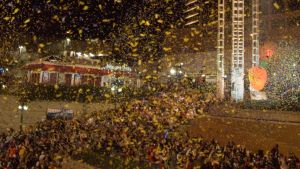 Atlanta, GA
If you can't find something to do in Atlanta for New Year's Eve, you obviously aren't trying. This city energetically celebrates the new year and does it with Atlanta's signature sense of theater! Here are several of the New Year's celebrations happening in and around Atlanta!
When:
December 31, 2017
Where:
Various Locations
New Year's Eve Peach Drop
Ring in the New Year at Atlanta's annual Peach Drop at Underground Atlanta with family fun and Atlanta's own 800 lb. peach! Peach Drop is the largest New Year's Eve Countdown celebration in the entire southeast and this year's celebration is set to be the best one yet!
Downtown Countdown Atlanta
For the tenth year in a row, Atlanta's marquee New Year's Eve party, is returning to the luxurious Hyatt Regency, Atlanta on Peachtree Street...This will also mark the 13th year that Lindy Promotions & USA Entertainment are teaming up to bring you Atlanta's largest New Year's Eve party! For more information visit downtowncountdownatlanta.missiontix.com/
New Year's Eve Dinner at Ray's in the City
Join Ray's in the City for a quintessential Atlanta New Year's Eve price fixed dinner.Three dinner options will be available. Please call 404-524-9224 for reservations!