New Year's Eve Peach Drop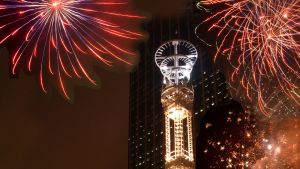 Atlanta, GA
Ring in the New Year at the 28th Annual Peach Drop at Underground Atlanta with family fun and Atlanta's own 800 lb. peach! Peach Drop is the largest New Year's Eve Countdown celebration in the entire southeast and this year's celebration is set to be the best one yet!
When:
December 31, 2017
Where:
Underground Atlanta
50 Upper Alabama St SW
Atlanta, GA 30303
Drawing more than 150,000 in previous years, the Peach Drop continues to be the highlight of downtown Atlanta! The magnificent 800-pound peach will begin its much-anticipated 65 second descent shortly before midnight to the New Year. Crowds will see a colorful fireworks display that will light up the night. The Peach Drop will be syndicated in more than 35 markets.
Underground Atlanta
50 Upper Alabama St SW
Atlanta, GA 30303
For the safety & enjoyment of Peach Drop, Underground Atlanta asks that the following items NOT be brought onto the property: Pets, bags, backpacks, coolers, picnic baskets, recording devices, roller blades, bikes, skateboards, lawn chairs, weapons and alcoholic beverages (Alcoholic beverages can be purchased on the property by patrons 21 years of age and older.)
Click here for a full schedule of Peach Drop events.
About Underground Atlanta:
Conveniently located near the Georgia State Capitol, World of Coca-Cola, and the Martin Luther King Jr. History Center, Underground Atlanta is a great place to start the day visiting downtown's attractions and events. Located in the heart of the city, Underground offers a wide variety of shops, restaurants and activities for everyone to enjoy. Explore six blocks, twelve acres and three levels and 225,000 ft. of shopping, restaurants and entertainment, as well as the newly opened and successful, eight restaurants and clubs in Atlanta's hottest nightclub area, Kenny's Alley! Be sure to visit underground-atlanta.com for more information or call Underground Atlanta at 404.523.2311.