Atlanta's St. Partrick's Day Parade is over 120 years old - join us in celebrating it.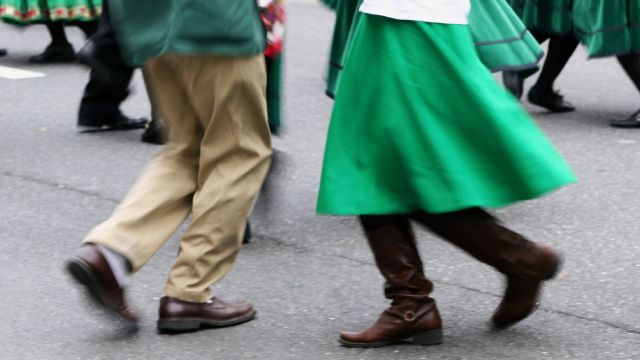 Atlanta, GA
This year will be the largest, best publicized St. Patrick's Parade since the first such event 150 years ago at the site of the first St. Patrick's Parade in 1858 - Downtown Atlanta. Again this year the parade ends at Fabulous Underground Atlanta with Vendors, Food and FREE Entertainment, Music & Dancing.
NEED TO KNOW:
What:
St. Patrick's Day Parade
The Atlanta St. Patrick's Parade will have over 200 units, including at least 25 major floats, bands of every kind, military units, 6 Bagpipe & Drum Corps, thousands of children, (the reason for celebrating) Irish dancers, clowns, high tech firefighting equipment, police units, drill teams, dogs, horses, antique cars, dignitaries from Ireland, and much more.
One newspaper reporter asked why a St. Patrick's Day Parade is relevant in today's world. Part of the answer is the obvious celebration of the Irish Saint Patrick, but there is an even broader import to this celebration. It is the celebration of the success of an immigrant people.
The Irish left their homeland for a variety of reasons - poverty, fear and hopelessness. Many were transported as prisoners. Rather than finding streets paved with gold, they found slums, prejudice, discrimination and hatred. Saloonkeepers would post a help wanted sign for the most menial of positions with the caveat "No Irish Need Apply". The Irish women worked at the most menial of jobs and in dangerous sweatshops. Slave owners would hire an Irishman to do a dangerous job rather than risk a valuable slave. The Irishman had no value. They were at the "bottom of the food chain".
In spite of the obstacles, these people struggled. They settled in wild places and they took the jobs no one else would take. Today the Irish can count among their past and present numbers successful members in all walks of society. In our country there are U.S. Presidents, Corporate Executives, Policemen, Firemen, Priests and leaders of all types.
In spite of the odds against them, they struggled, fought and succeeded.
This is a celebration of an immigrant people. It is a celebration of success. It holds out hope to the multitudes coming to the shores and starting out in a new land. The success of the Irish is cause for everyone to celebrate and have hope for the future.
St. Patrick's Day is not just an Irish Celebration. It is a celebration for all people in our nation. We are all immigrants. Happy St. Patrick's Day!