Visit Adventures Unlimited if you want a great outdoor adventure!
By | March 21, 2013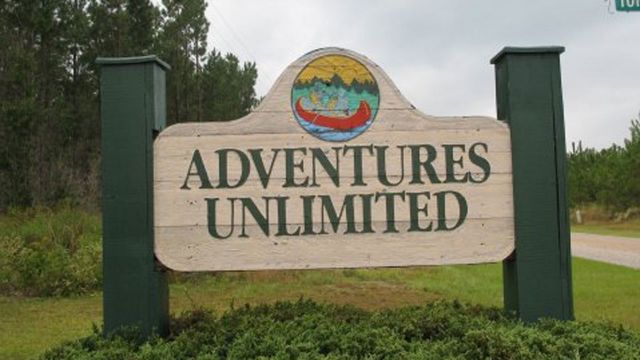 Destin, FL
The name "Adventures Unlimited" says it all! If you want a great outdoor adventure, they offer canoeing, kayaking, tubing and camping along Coldwater Creek. These trips travel along spring-fed rivers and secluded sugar white sandbars through the Blackwater River State Forest of Northwest Florida near Milton, Florida. Plus they also offer cabins, cottages and group cabins for that nature-lover who wants to partake of the great outdoors but prefers a real bed to a sleeping bag.

A couple of weekends ago, I decided to take my friends and try one of their zipline canopy tours…they have the longest in Florida State. There are fourteen zip lines all together, but you may choose from several different packages as to how many zip lines you would like to experience during your tour.

There were nine of us all together ranging in age from 10 to 65, men and women of every shape, size and level of fitness; and, surprisingly, none of us had ever been on a zipline before the minute we climbed the first tower and looked over the edge. Of course, they provided two outstanding professional guides to assist us throughout the course. The first tower was a beginner's tower and not very high off the ground. This zip allowed us to learn the equipment and how to slow down (which is very important). I also think the guides wanted to access the fear level of each participant to make sure all of us would be able to follow through as the tour started to climb through the canopy to higher platforms.

There were a series of narrow circular staircases and ladders to be climbed to take us up to each of the tower decks and each seemed to get higher and higher... the highest deck was 65 feet in the air! The decks are relatively small and have no railings but each of us was tethered to a steel cable with steel auto-locking carabiners. In fact, there was never a time we were not tethered to a cable or line... safety first.

Each zip allowed us to soar through the air and get a bird's eye view of the forest and streams below…combining the adrenaline rush of a zip line with the natural beauty of NW Florida's forest and Coldwater Creek. And, each zip was unique and different... the last and longest zip was 900' long and carried you over a creek.

Now, I know the two oldest men on the tour were so frightened, they wanted to scream like little girls each time they were cleared for take-off; but they refrained since the group consisted primarily of women and younger children. Plus, I am not saying that everyone who participated overcame their fear of heights, because that did not happen. But, each new zip line appeared to become easier... more fun... and even thrilling!

When we finished, they presented us with a "Certificate of Completion" which some really treasured because they knew no one would believe them. They could hardly believe it themselves. They had completed the course and were proud of it!

There are too many adventures to cover in this brief article, so for more information go to: adventuresunlimited.com and check out their many adventures including their rope courses and Moonlight Zip!