The holidays are nearly here and it just isn't that hard to get into the spirit in Destin.
By TripSmarter.Com | March 21, 2013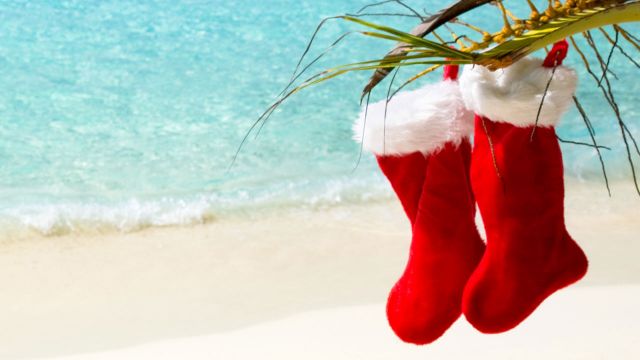 Destin, FL
Spending the holidays in Florida…or even living in Florida for Thanksgiving and Christmas has many advantages and locals never understand why so many people like to say, "It's impossible to get in the Christmas spirit in Florida!" Perhaps it's just a "conditioned response," for nothing could be further from the truth. Of course we all know about the weather and unless you're from picturesque Vermont, the warmer temperatures in Florida should appeal to most everyone. Destin has a bit of the best of both worlds as the days tend to be warm and the evenings are often cold enough for a small fire outside on the deck or in a fire pit if you're lucky enough to have the perfect spot for one. But, it's the wonderful Gulf of Mexico that keeps Destin warm day and night even when temperatures are near freezing inland.

It seldom…if ever, freezes on the beach in Destin…and once the sun rises in the daytime, it's always strong enough to get the temperature up where it's nice and comfortable…that's why Florida sunshine is famous. Well, you know…you're here and if you're not, you wish you were, right? Finally, as the incredible winter sunset fades into the horizon, it's usually cool enough for that favorite sweater and well, to many…this really is the very best time of the year…in every way!

So, the holidays are nearly here and it just isn't that hard to get into the spirit in Destin. Plus, there are a few surprises that just never occur up north this time of year. Picture if you will…a moonlit night on the Emerald Coast…the clear green water reflects the twinkling stars above, not a cloud in the sky and there's a crowd waiting for a parade…hoping to get a glimpse of the "big guy," you know-Santa Claus! But…here in Destin, it all goes down a little differently…with spectacular results! A parade on the streets would seem silly with water all around…so in Destin, the parade is on the water with hundreds of boats decorated to the hilt and twinkling like Christmas trees! The boats slowly meander through the harbor to the accompaniment of beautiful seasonal music…a little Nutcracker…White Christmas and Jingle Bells…Here Comes Santa Claus and so on…everyone's Christmas favorite is sure to be heard as one boat after another passes by, each more beautifully decorated and brighter than the last! It's an incredible experience and parades like this don't happen up north…only in Destin!

The headliner or star of the parade is the "largest charter fleet" in Florida, and instead of decking the halls, the boats are bedecked to create a sparkling procession through Destin Harbor. Everyone is mesmerized as they merrily watch from beaches, harbors, bridges, decks and docks! That's enough Christmas spirit to last through the entire season but there's much, much more!

Santa makes several other appearances this time of year, but none more interesting than when he shows up at Gulf Breeze Zoo. Even the animals take delight in this merry spectacle as the zoo is turned into a winter wonderland. Twinkling lights are seen on everything from Apes to Zebras and children of all ages enjoy this special night at the zoo! The fantasy snowstorm really turns on the magic and the children's laughter is infectious…but magic or not, a good time is shared by all!

Once Destin Harbor puts on a show, too! The decorated boats are only in the limelight for one evening but Destin Harbor puts on a show every night with festive holiday decorations and millions of lights running up and down and right and left in every direction! The main thoroughfare in town is also decorated like so many cities across the United States, so the Christmas spirit is impossible to resist while you're in Destin…regardless of the temperature outside!

Destin Commons is Destin's newest shopping Mecca as well as the perfect play land for kids any time of year but during the Holiday Season, it's well-worth a trip just to take a look at all the festivity. While you're there, you'll enjoy 25 acres of breath-taking architecture and over 80 well-known local, national and international names in retail and dining. The Rave Motion Picture 14-screen stadium style theater is another obvious attraction but your children will particularly enjoy the soft surface nautically themed playground in the center of the plaza… dolphins, crabs, alligators and a 49 head pop fountain will provide hours of amusement! It's easy to see why Destin Commons was voted the "Best Place to take kids on the Emerald Coast" and at Christmastime, Destin Commons is anything but common...it sparkles!

So too does Silver Sands, another well-known shopping center…an outlet center to be precise and it's so large you'll need your car to drive end to end and here and there! But it's as much fun and filled with the Christmas spirit as it is with fabulous deals on big name designer wear. The point is, don't let anyone tell you it's impossible to get in the Christmas spirit in Florida. Destin is as bright and shiny as a silver bulb hanging from the tallest tree and Destin has events Northern cities only wish they could present! Best of all, it's entirely possible to have a Happy Thanksgiving and the Merriest Christmas of all, right here in Destin, Florida. It's Christmas as usual, just throw in a little sugary-white sand and emerald green water and that warm Florida sunshine. Is it a "bad thing" not to be FREEZING?

The festivity doesn't end at Christmas. New Year's Eve is widely celebrated in Destin and all along Seaside's 30-A with dinner parties and dancing and New Year's Day is often a "beach day" with plenty of Florida sunshine and the rolling surf of the Gulf of Mexico…sound tempting? Yes, it is and it's not too late if you're interested in changing your setting for the holidays? Rent a room or a whole house if you like and see what Destin is all about during the holiday season…your family is sure to thank you for the experience.

Shortly after New Year's is the Great Southern Gumbo Cook-off and it's followed by Mardi Gras on the Island! As you're beginning to realize, Destin is not only a wonderful place to get in the holiday spirit, it's a wonderful place to live or visit as often as possible…and why not start this Christmas? Destin is filled with the holiday spirit and it's waiting for you and your family! Merry Christmas from everyone on the Gulf Coast…and a Happy New Year!