Destin History and Culture
This cozy little resort town wasn't always a top tourist attraction...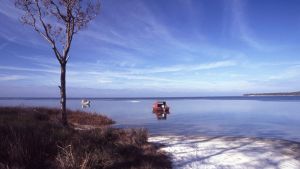 Destin
Literally millions of people flock to the Emerald Coast every year. They come for many reasons... but the sheer physical beauty of the place is the chief motivation. Shockingly white sands frame brilliant aquamarine waters, scattered sea-oats cling to soaring sand dunes, surrounded by sand pines and blossoming magnolia trees...

The setting is still uncomplicated, unpretentious and breathtakingly beautiful despite a booming real estate market. But, this cozy little resort town wasn't always a top tourist attraction... In fact, long before city councils and government existed, people solved their problems in a neighbor's parlor. Fishing was the binding thread in this tiny community and families stuck together through tough times.

He was the first white man to come to the area and started what became known as "The World's Luckiest Fishing Village" by giving fishing jobs to young men newly arrived to the area.

The first fish camps sprung up on the Moreno Point Military Reservation that was sold off by the government to private ownership. By 1908, there were homes, churches and at least eighteen fish camps dotting the coast. Each separate, but all sharing one common thread... fishing!

Homer Jones, John Maltezos, "Uncle Billy"Marler and, of course, Leonard's sons were among the first fisherman to scour local waters for the bounty of the Gulf. Each has become a "local legend" of sorts in the now famous little fishing village.

Maltezos, originally from Greece, owned businesses in what is now Milton, FL (north of Pensacola). His properties consisted of a restaurant, general store and a dance pavilion. But in 1922, he and his family moved to Moreno Point and Maltezos became a well-known boat builder. His most famous vessel, "The Primrose," now sits in the Destin Historical Museum.

'Uncle Billy' Marler is probably the most well-known historical character. He moved to the East Pass in 1879 to fish alongside Captain Destin. He soon became one of the best fishermen in the area and built over 100 boats in his lifetime. He also became the village coffin maker and undertaker, charging nothing for his services. The first school was held in the Marler living room, along with the first church service.

In 1899, he started the first post office in the parlor of his home and, of course, became the postmaster. He continued on as the Postmaster until retirement in 1945. It was Marler who coined the town's name, Destin, in honor of his former employer and he also passed down the responsibility of Postmaster to his heirs.

The roaring 20's served as a turning point for the tiny fishing village. Boat captains took the initiative in creating a brand new profit-making industry. These seasoned fishermen, who had heretofore made their living fishing commercially, turned to the new business of offering guided fishing trips to wealthy "tourists" looking for big game fish. Charter fishing was a hit from the beginning and Destin soon gained the reputation of being the Billfishing capital of the gulf. Today, Destin still boasts the largest charter boat fleet in Florida!

And then, there was light! The homes of Destin residents lit up with electricity in 1947 and Destin opened its first Community Center. In order to raise funds for the Center, the first Destin Gulf Coast Deep Sea Fishing Rodeo was held in 1949.

The Fishing Rodeo has continued as an annual tradition in Destin, attracting over 30,000 anglers each October to compete for over $100,000 in prizes. Destin continued to grow as a world-class resort centered around Sport Fishing, and in 1984, the City of Destin was finally incorporated.

For as long as most local residents can remember, this entire 30 mile stretch of beach has been referred to as "Destin." Lately, however, each little hamlet has sought a separate identity. These days, the area between Destin and Panama City is known as the "Beaches of South Walton."

Scenic Highway 30-A winds along the coast, through tiny communities like Seaside, Grayton Beach and Blue Mountain. Seaside has attracted international attention to the area - first as Time Magazines "Community Design of the Decade" and then, as Sea Haven in the Motion Picture blockbuster "The Truman Show," starring Jim Carey.

The Emerald Coast is booming, and it seems Destin will never again be a sleepy little fishing village, but if you are interested in re-living a taste of history, there are still pockets of solitude and plenty of fishermen who are happy to tell stories of the "Old Days."