From Grayton Beach in the east, to Ft. Walton in the west, the Emerald Coast offers a wide range of artists and artistic expression.
By TripSmarter.Com | March 21, 2013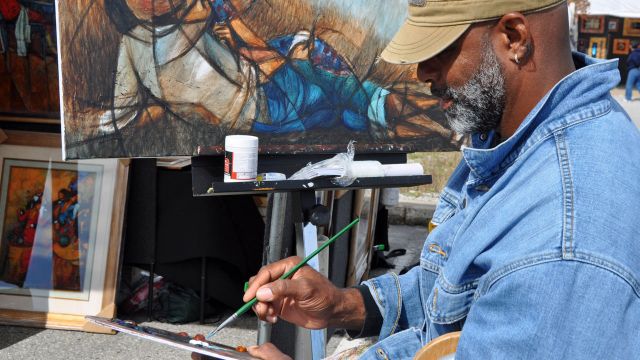 Destin, FL
World-class art in "The World's Luckiest Fishing Village?" It isn't as strange as it seems! From its beginnings, Destin has been home to free-spirits who relish the good life. The cool sea breezes flowing over long, rolling emerald-green waves... the sugar-white dunes and subtropical flora and fauna have been inspiration to the area's many artists. And Destin isn't alone.

From Grayton Beach in the east, to Ft. Walton in the west, the Emerald Coast offers a wide range of artists and artistic expression. Its painters, musicians, and actors add cultural depth to the sandy shores of the Gulf of Mexico. Donna Burgess, of Artz, creates beautiful beach and harbor watercolors. Every year, Ms. Burgess designs a poster that is sure to become a classic for the Spring Wine Festival.

Add to that, her exquisite furniture, hand-crafted frames and intense acrylics, and you won't want to miss going to one of the Artz locations in Destin at the Shoreline Village Mall or in the shops at Seaside.

With galleries in Destin's Shoreline Shopping Center, Sandestin at The Market, and in Grayton Beach across from the Red Bar, Zoo Gallery is hard to miss! And you won't want to miss the many fine art works inside! From limited edition prints to tabletop fountains and hand-made furniture, there are treasures awaiting in all three stores! If you're looking for an animal-themed pieces, this is the place; paintings, prints or posters, they have it all.

The Gallery of Fine Art at 127 Highway 98 E. features original works of art in various mediums by local and national artists. Paintings by Kathy Posey, Richard E. Williams, Ena Fagon and Bill Carter delight the eye. With limited edition lithhographs, seriagraphs, and gidees on paper and canvas by such noted artists as Hesam Abrishami, Thomas Kincade and Fance Ledan, The Gallery of Fine Art draws scores of visitors back year after year!

Haunting images of undersea life have made Wyland famous, and at the Wyland Paradise Gallery in the Harborwalk at Destin, you can browse through posters, jewelry, apparel, collectibles and home accents. Bringing forth the exuberent joy of life, Wyland's depictons of dolphins and whales are engrossing and thought provoking.

Ft. Walton cannot be overlooked when thinking of the treasures of the Emerald Coast. The Art & Design Society of Ft. Walton Beach sponsors three judged art shows every year for non-members and members alike. Throughout the year, lectures and demonstrations, along with workshops and art classes for both children and adults strengthen Ft. Walton's commitment to the arts.

The Mattie Kelly Foundation supports performing arts throughout the area. Three times a year for six weeks Youth AKA Theater enrolls up to 200 students in art classes and theater presentation. Sponsoring the Alabama Shakespeare Company's rendition of "As You Like It" on October 30th, the Mattie Kelly Foundation brings the Bard to the Beach. And on the 10th of December, the Mattie Kelly Foundation presents the community with a free Christmas Pageant, "The Wonder of It All."

Destin and the surrounding communities are also rich in musical harmonies. The Emerald Coast Chorus, Emerald Coast Community Band, Ft. Walton Beach Community Chorus and Northwest Florida Symphony Orchestra and Symphony Chorus of Okaloosa-Walton Community Choir provide hours of listening enjoyment for music lovers of all tastes.

Whether you come to the Emerald Coast to play or to relax, don't deny yourself the luxury of enjoying the varied artistic experiences waiting for you year-round. Destin may be "The World's Luckiest Fishing Village," but its also home to some of the world's luckiest artists, who work and live in paradise!