What bride (or groom) hasn't fantasized about the white sandy beaches and emerald green waters of a paradise far, far away.
By TripSmarter.Com | March 21, 2013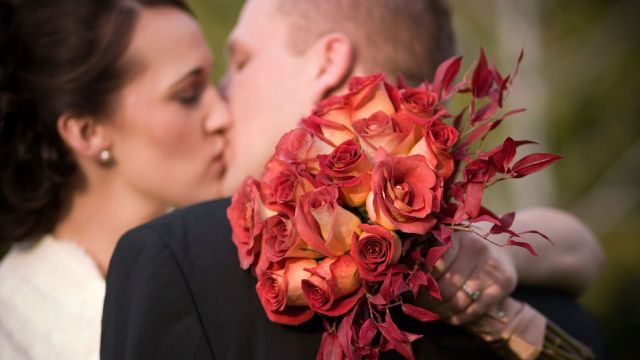 Destin, FL
In the past, marrying away from home usually meant eloping... today the idea has taken on an entirely different meaning and couples everywhere are hightailing it away from the traditional wedding to a more intimate occasion away from home. The "destination wedding" has arrived! What bride (or groom) hasn't fantasized about the white sandy beaches and emerald green waters of a paradise far, far away. Well, that paradise may be closer than you think... situated in the Panhandle of Florida and easily accessible to anyone ready to say those two magic words... "I do!"

More commonly known as the Emerald Coast due to the unbelievably green, crystal clear water of the Gulf of Mexico, this wedding destination also features the "world's most beautiful beaches"- sand so sugary white and fine, you'll swear it's snow. But it's paradise all right, stretching for more than a hundred miles, and no matter where you ultimately decide to say those two magic words, you and your wedding party will leave the Emerald Coast with plenty of sand between your toes!

Pick any destination... Panama City Beach, Sandestin, Destin, Pensacola, or a strip along the coast known as 30-A filled with "upscale" small town charm - wherever you go, the Gulf of Mexico is never far away. 30-A may be best known for Seaside, a featured locale in Jim Carey's, "Truman Show," but more recently, other towns like Rosemary Beach, Seagrove and Watercolor have also grown in popularity. The perfect spot for your wedding is out there... somewhere along those twenty-seven miles!

Just remember, a destination wedding should be virtually stress-free, simpler (and faster) to plan than a traditional wedding and reception. Honeymoon-happy resorts have also made it easier and more appealing to wed on-site with full-time wedding coordinators on staff. Many resorts also offer wedding packages that take care of all the essentials. But, if you want to be "resort free" at your destination of choice, there are other options.

Many wedding planners specialize in destination weddings, and you'll find them all along the Emerald Coast. They've done it all before (many times) and can save you a lot of money and headaches. A destination wedding is no time to micromanage - just hire a good wedding planner who knows what they're doing and leave everything to them. Their reputation depends upon making sure your big event (or small event) is picture-perfect... otherwise, they wouldn't be in business. Please, check references and make sure you're dealing with someone who is experienced... and someone you enjoy being around!

The affordability of a destination wedding may come as a surprise? Couples often decide to travel to a place where they can get married with just a few friends and family on hand, have a honeymoon, and still have some money left over to start their new lives together. No wonder so many couples are speeding off to the Emerald Coast faster than you can say, "I do!" And wherever you go... you're in the driver's seat... and YOU get to make the rules!

Life on the Emerald Coast revolves around its famous beaches and Panama City is no exception... but wait, there's more... spectacular nightclubs, amusement attractions, restaurants, hotels and homes all designed for the "beach" experience! Brides marry here in white shorts... dare I say a white bikini... and no wedding slippers here... everyone goes barefoot in the sand! If you can dream it, you can do it in Panama City! Rock bands are totally acceptable... or a couple of folk singers if that's more your style? Panama City Beach Weddings is the leading destination beach wedding company serving the Emerald Coast. Family-owned and operated, they serve most of the beach locations from Mexico Beach to Grayton Beach and Destin. Of course they'll gladly coordinate garden and chapel weddings, too, but their forte' is that elegant, yet affordable, Florida beach wedding that you and your fiancé have always dreamed of... and on the Emerald Coast, any time is the perfect time for a wedding - it's Florida!

There are other great locations in Panama City for a wedding... or a reception. The Marriott Bay Point Resort and Golf Club is a haven for golfers, boaters and for anyone seeking a little serenity. Nestled on a wildlife sanctuary, the Marriott Resort has everything (and more) for the perfect wedding and reception... fine dining at 30 Degree Blue, beautiful accommodations, a beach bar and a world-class spa to make sure the bride looks and feels her best. If you or anyone in the wedding party happen to be a golfer... look no further for Northwest Florida's only Nicklaus-designed golf course! Once you check into the Marriott Bay Point, you won't leave until the honeymoon is over!

The Edgewater Beach Resort is another full-service golf and beach resort that offers a variety of accommodations. Whether you're searching for a hotel, a condo or a "golf villa," Edgewater delivers... and right on the beach! For over 11 years, Edgewater Beach & Golf Resort has been one of Northwest Florida's premier wedding locations, offering both an experienced, professional staff and impressive facilities guaranteed to make your wedding day a special one. Weddings here are perfect for large families... or large parties-the decision is yours!

Life is always good at The Spinnaker Beach Club! It may have a sportier feel but it's still about all the basic stuff you love about the beach... great music, great food... long, lazy days with friends, and plenty of time for a little dancin' AND romancin'! Nightlife at Spinnaker is alive and kickin' with exciting concerts and original entertainment. When the new "Mr. & Mrs." are ready to dance, the Spinnaker dance floor is the only place to be. Spinnaker is a Panama City Beach tradition and always adds a little spirit to any occasion... especially a beach wedding where FUN is on the agenda.

No doubt about it, Panama City Beach is FUN... and for many, it's the preferred vacation destination in the summer with golf, mini-golf, go-karts... a world class zoo, and just about everybody knows that "You gotta go to Gulf World," Panama City's answer to Sea World. And it doesn't mater who you are, Panama City and its beaches will make you feel right at home. For years, Panama City has welcomed visitors from all over the country and charmed them with down home cookin' and an old fashioned down home attitude. Now Panama City has added "wedding destination" to its resume... and we're still having FUN after all these years!

Perhaps Destin is a little more upscale... but, the beaches here are identical! Destin boasts a variety of very fine resorts and restaurants, and several great wine bars, ideal for a wedding reception where "wine" is the featured player. Destin wasn't always such a beach wedding capitol... more of a small fishing village for destination fishing... but, now all the United States travels to Destin for that special beach wedding. Destin sits in the middle of the Emerald Coast with Panama City and Pensacola about a 30-minute drive in either direction... so, count on plenty of fun to the east and west if you say "I Do" in Destin. Beach Weddings, Etc. will take all the stress out of planning your wedding in Destin, including professional photographs. They'll take care of everything while you're hundreds of miles away. All you have to do is arrive and enjoy your special moment... it really can be that easy. In fact, that's the whole idea of a "destination wedding!"

Many couples enjoy getting married on the water, rather than on the shore. It's fun to take a cruise anytime... and, why not for your wedding? SunQuest Cruises will handle all the details of your wedding aboard their dinner dance yacht, Solaris. You and your guests will enjoy the 5,300 square feet of passenger space, including two climate controlled dining rooms and a full service bar. Live entertainment completes the picture and your wedding or rehearsal dinner will be unforgettable. Why not leave all your worries in their wake and say "I Do" at sunset while cruising on Solaris?


Our last wedding destinations lie along Scenic Route 30-A, an 18-mile stretch of road that hugs the coastline. The natural beauty of this area is second-to-none with sugar white sand and sparkling emerald green water all along the way. You'll also discover some of the largest dune lakes in the country and a number of beach communities that are known for their relaxed, upscale lifestyle... one of them may be just right for you?

It wasn't that long ago when families came to the beach and stayed in simple cottages... in beach towns where porch-sitting and strolling were as important as swimming and sunbathing. The idea of Seaside, Florida started with the notion of reviving tradition and producing wood-frame cottages that enhanced the many pleasures of life by the sea. Sunlight pouring through windows open wide to an ocean breeze... hammocks hung in the shade of a screened porch... and white picket fences - that's the Seaside style today. Weddings here run the gamut from casual to upscale, but Seaside style is guaranteed one way or another!

After the success of Seaside, other communities have sprung up in its wake... and most would say for the better; regardless, where weddings are concerned, it's good to have options. Rosemary Beach is only a few miles east of Seaside but its appeal is different in many ways, mostly its architecture and the town's pedestrian scale... everything is within a five-minute walk. The shapes and silhouettes at Rosemary Beach call to mind St. Augustine, the West Indies, New Orleans and Charleston where deep eaves provide shade from the afternoon sun and fountain-filled courtyards and porches become outdoor rooms. Guests enjoy wandering through town-square and the many common "green" areas ideal for reading, games, picnics... and weddings. You should also have a glass of wine in the courtyard of Courtyard Wine and Cheese before dining at Onano Neighborhood Café. By the end of dinner you'll be sure this is the only wedding destination for you!

If the name David Rockwell means anything to you, it's worth checking out the Watercolor Resort and its premier restaurant, Fish Out of Water. This is a glorious place even if you don't know that David Rockwell is a Tony Award winning designer, responsible for many of the trendiest restaurants in New York! It's clear that Rockwell is very much taken with the Emerald Coast as he manages to bring the outside into Fish Out of Water. The setting is spectacular and the food never disappoints... very much a part of the good life on the Emerald Coast. Also designed by Rockwell, the inn combines the warmth and hospitality associated with traditional Southern grand hotels, the intimacy of bed-and-breakfast inns and the charm of classic beach houses. The only problem with a wedding here is deciding which location is more beautiful than the other... and choosing from the Fish Out of Water menu is next to impossible - but, someone's got to do it!

It's no wonder the Emerald Coast and all it has to offer has become a favorite wedding destination by so many. Is it the balmy weather or the turquoise water of the Gulf... the sugar-white sand or the many fine resorts and restaurants? The Emerald Coast has many personalities and one of them is bound to be just right for you. It sure wouldn't be very painful to spend a week (or two) on the Coast... and call it research-just to be sure you make the right decision. After all, saying "I Do," are two of the most important words you'll ever say. So, leave the planning to someone else and make sure that day is filled with nothing but fun and of course, lots of love... Emerald Coast style!