Destin and the Emerald Coast are famous for fishing, beaches, sailing, boating and more
By TripSmarter.Com | March 21, 2013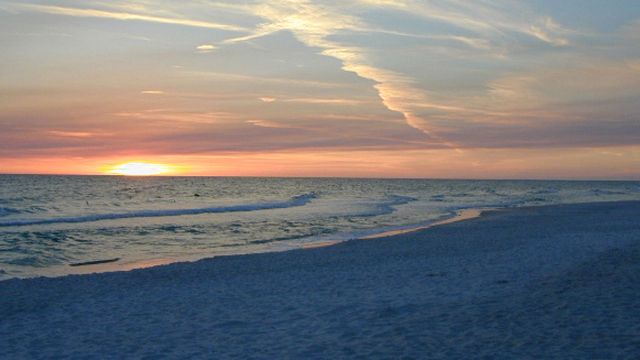 Destin, FL
For years, the one hundred mile stretch of beach between Panama City and Pensacola was called the "Forgotten Coast" because, so often, in the minds of visitors, Florida is defined as Orlando, Miami or Key West. Destin is changing all of that. Graced with miles and miles of sand so white and powdery it can be mistaken for virgin snow or confectioners sugar, Destin's gulfshore entices surfers, divers, boaters, fishermen and beachcombers.

Approaching Destin on Highway 98 from either east or west, after passing through aromatic pine forests, you begin to catch flashes of brilliant sunlight reflected on the rolling waves of the Gulf. As you draw closer to Destin, the pines thin and fall away, unveiling an awesome view of sand dunes, blooming sea oats with a sparkling, shimmering aquamarine surf beyond.

Few places on earth can boast the diversity and abundance of sport fish that anglers routinely haul from beneath the waves near Destin. This plenty from the sea is what first lured settlers to the area. From its inception, Destin has proven to be "The World's Luckiest Fishing Village."


Part of the draw of Destin is the variety of fishing offered. Bays, bayous, sounds, rivers and lakes provide diverse options for the fisherman. Freshwater to salt, swift moving to still, the inland waters of Destin offer a rewarding challenge, but the emerald green Gulf is the main attraction for sportsfishermen. Below the surface glide the dream fish: red snapper, pompano, amberjack, grouper, triggerfish, cobia and the elusive Marlin all populate this area in numbers no serious angler can long ignore.

Whether you hire a charter boat for a half-or-whole day excursion or use your own boat, you are sure to find fishing in Destin both a challenge and a reward. But, if you take your personal boat, there are a few things to remember. In summer, the weather can change quickly and unpredictably in the Gulf. Listen to VHF radio channels 1,2, and 3 for weather bulletins. And, be sure to take along plenty of sunscreen and water. If you do have trouble, contact the Coast Guard on VHF channel 16.

Local captains take charters many miles out into the Gulf to their favorite sites. Reefs and wrecks support enormous ecosystems teeming with marine life. These act like beacons to the larger fish which make up so much of the appeal of Destin fishing.

Charter captains weave their way over the famous De Soto Canyons, allowing their clients the opportunity to land the big ones. Annual fishing tournaments such as the Cobia tournament in May, Billy Bowlegs in June and the Sportfish Tournament at the end of July all contribute to the excitement of fishing Destin.

Florida law requires no license if fishing from piers or licensed charter boats, and limits the number and type of fish allowed each angler.

Other than that you only need rod, reel, tackle, bait and a little of the "Destin luck" in order to bring home tonight's dinner or tomorrow's trophy in "The World's Luckiest Fishing Village."