Dining in Destin, FL can be a never-ending delight. Destin's restaurants offer delicious seafood, steaks and sushi.
By TripSmarter.Com | March 21, 2013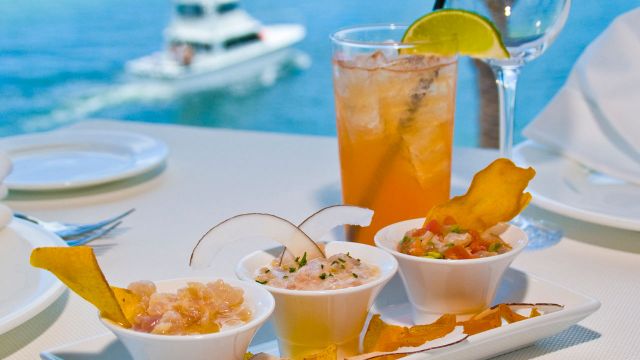 Destin, FL
Travelers to Destin often find themselves falling in love with the area for an unexpected reason... the seemingly endless supply of truly original and outstanding restaurants!

Destin's restaurants range from world-class fine dining to dockside burgers and everything in-between. Dining in Destin offers so many alternatives that you could spend an entire visit to the Emerald Coast just trying the restaurants!

And that's the truth! The restaurants of Destin are plentiful, and they're more than your usual Gulf Coast seafood shops. Take the seafood in Destin - it simply can't be beat. Destin, also known as "the World's Luckiest Fishing Village," is an angler's paradise, with a commercial (and charter) fishing fleet that's been around for over a century.

The waters off Destin are home to an amazing variety of sealife, and much of that ends up on the table... from the tender white flaky goodness of Grouper to huge Gulf shrimp to delicious scallops. And there are nearly as many seafood restaurants as there are types of seafood!

So let's just take a brief culinary tour of Destin, and see how several different restaurants do seafood - and finish off with a couple of options for you steak-lovers out there!

Beach Walk Cafe, on Scenic Hwy 98 along Destin's waterfront, is one of the Gulf Coast's better restaurants. Executive Chef (and owner) Timothy Creehan is a nationally recognized talent, rated as one of the most accomplished Certified Executive Chefs in the United States by the American Culinary Foundation.

Chef Creehan creates wonderfully original meals that capitalize on Destin's unique seafood opportunities, as well as including delicious dishes featuring steak, lamb, and duck.

At the evening meal, you can sample local Grouper in one of two ways - sautéed in pecan flour and served with a honey Worcestershire sauce; or Tempura fried with black bean sauce and basmati rice. Mmmm.

Or if you're looking for a Mediterranean-style dinner, try the Fettuccine with baby shrimp, crawfish tails, andouille sausage, mushrooms, green onions and a tomato cream sauce. There's a Seafood Plate, of course, that features the best seafood from the Gulf Coast prepared either grilled or fried.

Beach Walk Cafe combines everything great about Destin into one restaurant - the food, the view and the staff are all perfect!

One day of your trip should be spent exploring Seaside and the other New Urbanism developments lining Scenic Hwy 30-A, and while there do yourself a favor and try Criolla's. This elegant, adventurous restaurant is among the finest on the Coast.

Owner and Chef Johnny Earles has turned Criolla's location in tiny Grayton Beach (just to the west of Seaside) to his advantage, pulling the most discriminating diners from both Destin and Panama City Beach.

Criolla's has been described as "passionately inspired tropical cuisine," and the Creole-Caribbean stylings of Chef Earles is exactly that. Criolla's signature dishes will star in your culinary dreams for months, and the wines - the wines were selected with the same care as went into preparing the menu.

So take the time to explore Hwy 30-A and the coastal treasures lining it - including Criolla's!

On the Destin waterfront you'll find several great restaurants, but one of the most interesting - and most fun - is Harbor Docks. Originally not much more than a local's only bar-and-kinda-grill, Harbor Docks has grown into a unique dining treat.

Harbor Docks has great seafood and excellent steaks... and original, delightful Sushi! And they're adding a Hibachi grill next! This surprising Destin institution enjoys expanding its horizons by trying new ways of preparing seafood... hence the sushi bar.

Yoshie, the force behind the sushi, is known along the Coast for the excellent rolls coming out of Harbor Docks. Favorites like The Choleste-Roll (bacon, shrimps, egg and avocado with spicy sauce) and The Destin Roll (tuna, avocado and green onion with spicy sauce) keep locals and visitors flocking to Harbor Docks!

The Back Porch features fresh from the Gulf seafood prepared any way you like it, along with pasta, beef and chicken dishes and children's plates. Cool, casual, fun and affordable, the Back Porch is Destin at its best!

Of course there's always one in the crowd (OK, so sometimes it's me!) who won't be satisfied by anything other than a great steak. Here again Destin doesn't disappoint. Two steak places vie for the title of best steaks on the beach...

Destin Chops offers USDA Prime steak prepared by a talented chef in an innovative kitchen. Take your steak here if the finer things in life truly matter to you... Destin Chops sits above beautiful Destin Harbor, and features the comforts of buttery leather seats and rich mahogany woodwork.

McGuire's Irish Pub, on the other hand, offers "feasting, imbibery, & debauchery!" But don't let the playful attitude fool you - McGuire's is a first-class steakhouse, winner of the Wine Spectator Award of Excellence five years in a row.

Enjoy outstanding steak in a fun, friendly "Irish Pub" style atmosphere... including a usually raucous one-man-band playing all the best tunes from the "old country." McGuire's also has their own brewery! Now, that's an Irish Pub!

A visit to Destin can quickly turn into a unending round of dinner and drinks at some of the best restaurants you'll find on the Gulf Coast - so don't fight it! Dive in and sample 'em all!