The Sunshine State is a winter wonderland...and Santa arrives by boat!
By TripSmarter.Com | December 15, 2014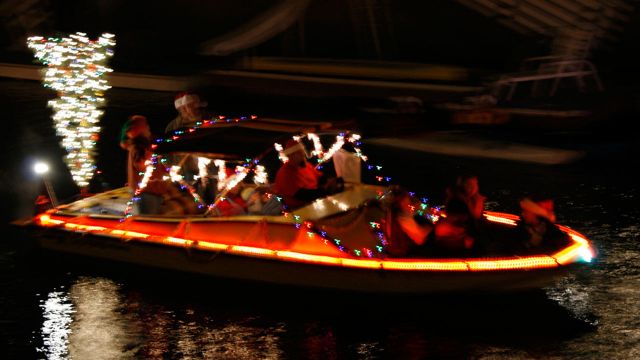 Destin, FL
Newcomers to the Sunshine State may pine for the snow and mistletoe of a northern Christmas, but Florida's warm weather version is probably closer to the original holiday in Bethlehem. If one thinks only of icicles and the North Pole, then the terms Christmas and Florida might not seem compatible, but if one conjures up images of families celebrating Christmas,exchanging gifts and enjoying ethnic foods, the two definitely can go together...add golf, tennis, fishing or swimming, and shorts and sunglasses instead of earmuffs and several layers of clothing -- then you have the best of two worlds: the warmth of both the holiday and the sun.

Granted, Florida is better known for its alligators and citrus than its turkey and eggnog, however, Florida has its own idiosyncratic ways of celebrating the season. For example, Santa always arrives by boat....even seaplane,instead of by sleigh. Many communities along the Panhandle feature festive holiday boat parades.You can forget the storefront decorations...they've been up since July! The best way to know the holiday season has arrived is when people begin parading up and down...Destin Harbor! The Destin Christmas Boat Parade features the largest charter fleet in Florida and a sparkling procession of festively bedecked boats. The magical procession glides effortlessly through Destin Harbor as mesmerized celebrants observe merrily from beaches, harbors, bridges, decks and docks.

VIDEO: Destin Lighted Boat Parade

Destin is also a Christmas shopper's paradise! From quirky little boutiques to sprawling outlet shops to uniquely original resort shopping destinations, there's a shop in Destin with whatever you need... or want!

Florida's real Christmas traditions began as early as 1539 when the first Christmas Mass in America was celebrated in what is now Tallahassee, about a half mile from today's Capitol building. Spanish explorer Hernando de Soto and his soldiers gathered around 12 Catholic priests who had accompanied the expedition that winter from Tampa Bay. Another important event in state history to fall on Christmas occurred in 1837, when federal troops led by Colonel and future President Zachary Taylor defeated 400 Seminoles near Lake Okeechobee in the largest and one of the most important battles of the Second Seminole War. A yuletide season during the Prohibition Era took on different spirits for many coastal residents when hundreds -- possibly thousands -- of boxes of contraband whiskey washed ashore from a two-masted schooner that sank in a strong storm on Christmas Day 1925. For weeks afterward, beach goers scanned the horizon for some telltale sign that another box (or two) of whiskey was making its way towards shore.

Farther north, in Jacksonville in 1992, Christmas shoppers whose parking meters had expired were pleasantly surprised to return to their cars and find an orange slip of paper with the following poem on their windshields instead of a citation: "'Tis the week before Christmas and all thru the city; People are shopping, so we will take pity; No tickets today -- we will not cite; Merry Christmas to all and to all a good night." This holiday gesture of goodwill -- police showing leniency to minor lawbreakers, reflects an old practice of allowing debtors to skip a payment due on Christmas Day. It's unfortunate that the Christmas spirit doesn't last all year long...

In another show of generosity, officials at the Kennedy Space Center made the shuttle landing site available, since it opened in the 1970s, for emergency landings by Santa Claus. The 15,000-foot-long, 300-foot-wide landing strip is all Santa's in the event of reindeer problems or mechanical difficulties with his new, high-tech sleighs. The post office in the unincorporated Central Florida town of Christmas on State Road 50, named for nearby Fort Christmas, gets into the holiday spirit by postmarking more than 250,000 pieces of mail each year with a special Christmas tree seal. The tradition began in the 1930s, and today the post office receives mail from people across the country who want it to bear the town's fitting postmark.

In one way or another, Florida incorporates its sunny Southern style into all Christmas festivities. Although the state is not known for picturesque white Christmases, countless residents and visitors have found ways to adapt holiday traditions to the waterways of South Florida, citrus groves of Central Florida, pine trees of north Florida and the sugar-white sandy beaches of the Emerald Coast!