Hot Time, Summer in the Village!
HarborWalk Village captures all the magic and beauty of Destin.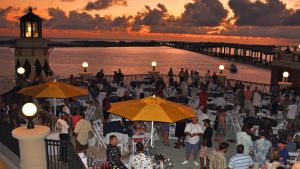 Destin
HarborWalk Village comes as quite a surprise (and a good one, too), once you find it. Tucked away... some might even say "hidden" below the spectacular Emerald Grande, HarborWalk Village captures all the magic and beauty of Destin, but delivers it up with cobblestone streets and a heaping helping of southern hospitality! Even though it's hard to imagine a "village" in this techno-filled world of today, HarborWalk takes you back to a centuries-old way of life... but with all the 21st Century perks! This European-like village may be one of Destin's best-kept secrets, but once discovered, you'll never want to leave... and why would you? HarborWalk Village is THE place to be in the summertime... and surrounded as it is by Destin Harbor, Choctawhatchee Bay and the Gulf of Mexico... there's no lack of fun in the sun OR in the water!

Destin's fleet of fishing boats crawls out of the harbor every morning in quiet procession. But time only seems to stand still in the village, so get there early before the parade passes by, then join in the summertime merriment that never ends... morning, noon or night! HarborWalk Village really understands the family dynamic, too... and there's something for everyone including world-class fishing, snorkeling or swimming with the dolphins... and what's more romantic than a sunset sail... at sunset? Gulf Coast sunsets are a beautiful and relaxing end to every day, but it wouldn't be summer in the village without a dazzling fireworks display every Thursday night.

Whether it's shopping or eating at your favorite restaurant, there's no reason to leave the village (ever). HarborWalk is a culinary "hot spot" like no other in the south, starting with the legendary Commander's Palace-truly one of the most famous restaurants in the world... and delivering on every level with the Emerald Grande Vista Bar and Grill and world famous, Pat O'Briens. You'll not only have the pleasure of tasting the best of Destin... all in the same block by the way, but every bite is served with a postcard view of the water... and plenty of fresh fruit daiquiris, too! Later on, the adults come out to play and HarborWalk Village goes "late night!" The Rock the Docks concert series rocks the village with the best in live entertainment every Saturday night but Sundays are just another day to relax and enjoy the camaraderie of friends and family. Village life is easy... just as it's always been, but now it's done with style... and there's plenty of it at HarborWalk Village. Don't let summer get away from you before you discover HarborWalk Village just below the Emerald Grande at Destin Pass... you may not be able to see it, but it's there... and it's FUN!