Destin is one of the coolest "hottest" cities on the Emerald Coast!
By Garth Bandell - Destination Network | March 21, 2013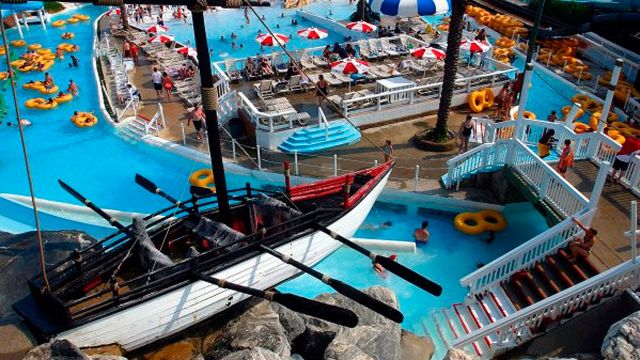 Destin, FL
There's no need to suffer a "summer in Destin," even if the city happens to be in the Panhandle of Florida. In fact, Destin is one of the coolest "hottest" cities on the Emerald Coast and as the saying goes... "there's water, water everywhere!" Sugar-white sand beaches, too... the rolling surf of the Gulf of Mexico... and the largest man made waterfall in the country! There's nothing more refreshing than standing under a BIG waterfall at Big Kahuna's Waterpark! The name says it all with more than 40 water attractions AND an Adventure Park. There's definitely something for everyone but you'll get a head start on all the fun at Ragin' Rhino River... (adults please hold your nose) where you'll find yourself at the mercy of sloping rapids that twist, turn and push you full force through chutes before ruthlessly dumping you into the raging Humunga River below!

For more curves, bigger twists and deeper drops, Thunder River takes you through the heart of the park on a single or double tube. It's one of the most popular attractions and some even say it's relaxing? Well, you decide... but the faint of heart might be a little happier on the Cobra Twister, though you'd never know it from the name! Slow and casual, this easy going slide is just right for a lazy day on the water. But, if you like it dark... and on your back, Jumanji takes you on a 70 foot free-fall into the abyss of darkness. It's pure adrenaline and for thrill seekers only... and only at Big Kahuna's!!

Of course, catching the perfect wave may be on your agenda, so imagine if you will one continuous wave that just keeps flowing as it fills with more than 36,000 gallons of water a minute. The Honolulu Half Pipe offers the best in surfing, bodyboarding and even skateboarding wrapped up in one very "off the wall" experience. Grab something... a board or a seat and get in on all the fun! Now the Maui Pipeline is definitely for anybody looking for an adrenaline rush and some super excitement in "free fall!" Three huge slides make up this Hawaiian Pipeline and any one of them takes you up to warp speed before climaxing in an exciting and oh so very WET, plunge!

Too, too many water attractions to mention here but there really is something for everyone including the slow moving Lazy River and a very refreshing Wave Pool... but there's adventure looming at Big Kahuna's, too, and it comes in all shapes and sizes. If you're tall enough (54") to drive, or tall enough (36") to ride, the Super Speed Raceway provides plenty of thrills inside some of the fastest race cars on the Coast. Or you can reach speeds up to 60mph on Sky Coaster, an exhilarating ride that leaves you hanging 100' in the air while flying and swooping towards the ground. Landlubbers may be happy to know that Big Kahuna also features a picturesque Mini Golf Course that has just enough creative obstacles and wooden Tiki Heads to keep things interesting for all ages.

Naturally there's a variety of food, beverages and snacks at Big Kahuna's so no one will go hungry and there's a frosty beverage for anyone who's finding summer in the city to be more like a HOT TOWN! Cool in every way, Big Kahuna's is THE place to be on a summer's day in Destin! Now, how cool is that?