Stop down at the HarborWalk Marina and check out this large scale pirate ship named the Buccaneer!
By | March 21, 2013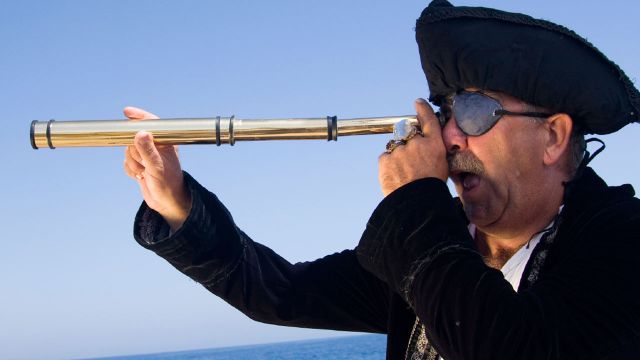 Destin, FL
That's right. The Buccaneer pirate ship has arrived in Destin and there are pirates galore! For you locals as well as those of you planning a trip to Destin, you must make a point to stop down at the HarborWalk Marina and check out this large scale pirate ship named the Buccaneer which is considered to be the most amazing pirate ship in North America. Now I like boats and have spent a lot of time around boats, but I don't believe I've ever seen as authentic a replica as this pirate ship resembling a 17th century Spanish galleon. It looks much like a pirate boat image you might conger up in your mind... kind of like the boat in the "Pirates of the Caribbean".

Capt. Steve and Wendy Wilson commissioned the building of this steel constructed Buccaneer which measures 102 feet long and 26 feet wide, weighs 97 tons and has a 2,000 gallon gas tank. Her price tag... nearly two million dollars. The build began last July at Master Marine in Bayou La Batre, Alabama. And the wood work was done by Dwight Blakeney of Blackeney Marine of Theodore, Alabama. It was the first pirate ship build for the owners as well as its contractors, but they reportedly had a blast trying to figure out how to replicate the details of the design they had imagined and turn them into reality.

With four separate decks, this pirate ship was designed to entertain up to 150 people. The Wilsons are expecting this vessel will attract 100,000 visitors to the docks during this season alone. Their staff of pirates will be in character throughout the cruise and provide children and families a very memorable, interactive pirate experience that will include singing, dancing, sword fights, gun battles, face painting and treasure hunts.

Capt. Steve and Wendy Wilson, also own the Southern Star Dolphin Cruise boat which is the original dolphin cruise boat in Destin. These two sister vessels docked next to each other, will be entertaining vacationers and locals along the Emerald Coast for years to come.

For more information about the Buccaneer Pirate Cruise visit destinpirateship.com.