Shopping in Destin is fast becoming one of the areas biggest attractions. From quirky boutiques to national brands, you can find it all in Destin.
By TripSmarter.Com | March 21, 2013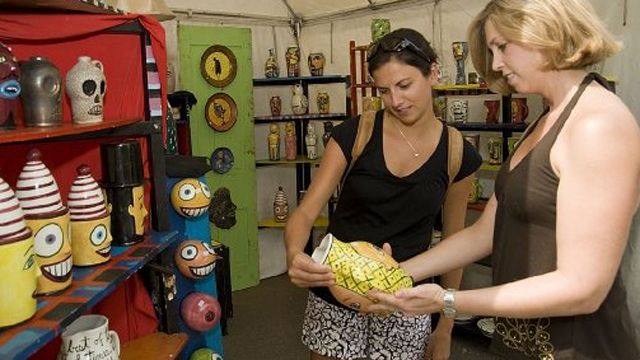 Destin, FL
Destin is world famous as a deep-sea fishing mecca, and of course the succulent seafood prepared in local restaurants is equally well known. Lately though, Destin has been gaining a reputation for it's extensive shopping opportunities.

From quirky little boutiques to sprawling outlet shops to uniquely original resort shopping destinations, there's a shop in Destin with whatever you need... or want!

One of the advantages to shopping in Destin comes from an unexpected direction. As the area has become a wildly popular vacation destination, several "destination resorts" have grown up. Combining all the amenities to be found throughout Destin onto one property, these resorts have designed their shopping experiences to blend into the resort's entire ambience.

Take The Market Shops at Sandestin. Located in Sandestin Golf and Beach Resort, The Market Shops at Sandestin are a collection of 30 singular boutique shops that cater to those who desire the finer things in life.

Strolling through the meticulously landscaped tropical courtyards you'll be tempted by shops offering one-of-a-kind collectible furnishings, exquisite jewelry, even stunning original artworks.

Internationally renowned artist Thomas Kinkade has a gallery at The Market Shops, as does nationally respected local artist Donna Burgess.

There are a dozen shops that feature stylish resort wear for ladies, men and even children. Here you'll find the perfect clothes for lounging by the pool, golfing, or a dinner and dancing.

"Apart from our unique courtyard setting with trickling water fountains and picturesque cafe tables, The Market Shops at Sandestin offers the family an unrivaled shopping experience," Shawn Chick, Director of Commercial Property at The Market Shops told us. "From fine home furnishings to old fashioned toys to upscale women's fashions, there is something for everyone."

The Market Shops at Sandestin are enough of a reason to visit the resort in themselves!

One day during your stay in Destin, make it a point to travel down Highway 30-A. Explore the charm of the upscale communities of Seaside, Grayton Beach, and Rosemary Beach.

Along the way treat yourself with a visit to Magnolia House. This hard to describe treasure is the inspiration of Nancy Veldman. Nancy has created a charming, relaxing oasis of calm in Grayton Beach.

An accomplished watercolorist, musician and poet, Nancy's vision is apparent in every aspect of the shop. The building itself is a tranquil, shaded place with a wide, inviting front porch.

Inside you'll discover an eclectic assortment of home furnishings, paintings, bed & bath accessories, cosmetics and gifts.

Often as you approach you'll hear a piano softly playing as Nancy and a group of friends delight at a melody she expertly draws from the instrument.

Magnolia House isn't to be missed, especially for those seeking a more peaceful vision of the Emerald Coast...

If there's a can't-miss shopping option in the Destin area, it's sure to be Silver Sands Factory Stores. Located just a few miles to the east of Destin, this place is for serious shopaholics!

With over 100 designer-name stores stocked with clothing for the whole family, home fashions and furniture, jewelry, toys and accessories, Silver Sands will take a whole day to explore!

Silver Sands features factory stores from such industry leaders as Bally, Banana Republic, Calvin Klein, Guess, Ralph Lauren and Reebok.

The quality and quantity of shopping options in Destin are giving "The World's Luckiest Fishing Village" a new source of fame!