Check out our list of the top ten best things to do in Destin!
By | October 14, 2013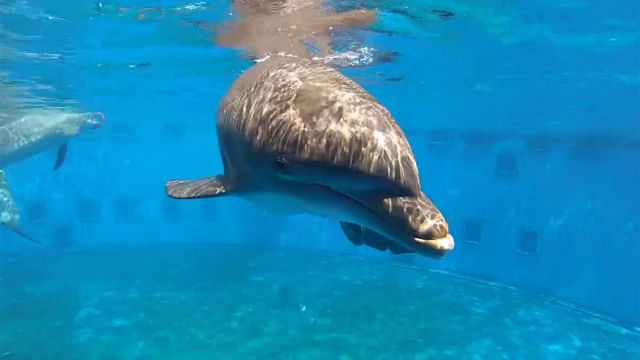 Destin, FL
Check out our list of the top ten best things to do in Destin!

Bass Pro Shops (Worldwide Sportsman)
So you want to go fishing and you need a little equipment? Or how about some swanky new clothing, perfect for the great outdoors? Well, you'll find all this and so much more within the 50,000 sq. feet of this two-story, world famous retail store where you really can "walk and talk" for quite a while as you take a gander at ALL the quality merchandise in this one-of-a-kind store. You'll also be surprised by quite a few things you've never seen before, including a 10,000 gallon saltwater aquarium stocked with large, local species like an 85-pound Goliath grouper, just to name ONE! Plus, if fishing is on your vacation agenda, you have hit the mother lode as this is THE place for "outfitting" your excursion! Bass Pro carries everything from hunting, fishing and camping gear to Suntracker Boats and Bad Boy 4-wheelers! You might even luck out and get a little advice on catching "the big one," so you don't have to make up a fish "tale" like everyone else? Bass Pro is open 364 days a year and you absolutely cannot miss it as you drive by!

Fat Daddy's Arcade
Kids love an arcade, especially one with LOTS of action and the challenge of new games, not to mention the thrill of competition and seeing their names as one of the high scorers on their favorite game! So, while the "grownups" enjoy an adult libation at Fudpucker's and one of their world-famous hamburgers, why not send the kids "next door" to the number one arcade in Destin and let them burn off a little energy where you know they're safe and having fun just being a kid? Fat Daddy's Arcade built its reputation on good family fun and a staggering number of games that are guaranteed to keep your kids entertained for hours! Your little "arcade aficionados" will be able to test their skills on more than 65 of the latest arcade games... everything from hoop basketball and Skee Ball to Guitar Hero, racing games and all the latest "game technology" on the planet! Most of the "high-tech" games at Fat Daddy's are interactive and challenging, but there's a special kind of "entertainment" right between the Arcade and Fudpucker's that's fun for the whole family... IF you like alligators, and who doesn't? It should come as no surprise that it's called "Gator Beach" for the hundreds of live alligators (among other things) on display. They put on an unforgettable, if a little scary "gator show," and it's FREE! Of course, it's all perfectly safe and highly entertaining; plus it's one of the best ways to get an up-close and personal look at Florida's most iconic reptile! Gator Beach is fun for young and old alike, and the price is hard to beat! So, there you have it-the ideal baby-sitter at Fat Daddy's Arcade where big-time fun is always on the menu and it's literally next door to Fudpucker's, the adult's favorite playground... just don't tell the kids cuz they happen to like big, juicy hamburgers, too! This family combo of Fudpucker's, Gator Beach and Fat Daddy's Arcade is the best way to keep peace in the family and give everybody the vacation they want. Everybody wins in paradise and that's how we roll on the Gulf coast!

Destin Commons
This open-air shopping Mecca is more lifestyle center than any mega-shopping mall or even the super-sized Silver Sands, Destin's premier outlet center. Not so long ago, Destin Commons arrived on the scene and changed everything with more than 70 national, regional and local specialty shops, 70,000 sq. feet of office space and two major department stores, Belk and Bass Pro Shops (# 10 on this list)! To say that there's more than enough room here to relax, shop and do a little people-watching would be an understatement, but should you ever tire of shopping, there's a Rave Motion Picture Cineplex in the "Commons" with 14 screens and really comfortable, stadium seating. It's pretty much the ultimate movie theater with state-of-the-art comfort, IMAX, 3-D and a concession stand that has a little bit of everything! Kids love playing at Destin Commons, too, especially while Mom is busy shopping. The nautically themed soft-play area was designed for over-active kids of all ages and the wildly amusing 49-head pop up fountain is the best way to stay cool in the Florida sun. The random "pops" of water shoot high in the sky, entertaining kids and adults for hours on end! Destin Commons is one of those places that you can easily spend the entire day enjoying all the activities, live concerts, shopping and FUN that's included... by design!

DeFuniak Springs and Chipley Park
DeFuniak Springs is only a short drive from Destin, situated near the I-10 corridor, just north of the beach. One of DeFuniak's best parks is the 80-acre, Chipley Park, located downtown in the historic part of the city. Chipley Park happens to have an exciting history of its own, including Florida's oldest operating Library, built in 1886, and still operating as a library today. The park also boasts an almost perfectly spring-fed round lake, one of only two such lakes in the world! This pristine body of water accounts for a full 40 acres, half the size of the whole park! Naturally there's a boat ramp by the lake for fishing; however, the lake is only open to boats with electric motors of one (1) horsepower or less. Still, there's nothing like spending a day on the water, especially on a surface that's smooth as glass. Visitors also like to spend time on one of the many nature trails in the park or simply having a family picnic at one of the tables along the way. If the youngsters want to play, look no further than the park's specially designed area... just for kids! It's easy to keep an eye on them as they play on swings, sweep down slides and build castles in the sand box. This never-ending fun can be capped off with a spin (or two) on the park's colorful merry-go-round or a little stroll along the water's edge of the lake. This charming park and historic town are an ideal getaway for a family adventure that's still close to the beach... but far enough away to be something entirely different. Plus, it's nice to experience at least one of the fresh-water springs that have made this area famous and perfectly delicious to drink! Whenever you're playing in the hot Florida sun, it's always a good idea to have plenty of drinking water on hand... and there's nothing better than fresh "Florida" spring water!

Regatta Bay Golf & Country Club
Regatta Bay is paradise and there's probably nowhere better to play golf than along the breathtaking nature preserves of Choctawhatchee Bay, the stunning backdrop for this par-72, 6,984 yard golf course designed by Robert C. Walker, the former lead architect for Arnold Palmer. This 18-hole championship course features daunting tee shots, spacious fairways with scenic vistas and undulating, bunkered greens. Regatta Bay is one of the Top 15 "Places to Play" in Florida and Florida Golf News hailed it as the #1 course in Northwest Florida! But you don't have to play golf to enjoy the beauty of Regatta Bay. There's a plush Clubhouse on the grounds with its own private library and a Golf Shop for men and women with famous brand names like Polo, Nike, Adidas, and Oakley, just to name a few! The elegant Clubhouse also offers breakfast, lunch and (early) dinner paired with fine wines and spirits in a spectacular setting! It's just a small part of what we like to call living "the good life" on the Emerald Coast... with a little competition thrown in just for fun!

Village of Baytowne Wharf
There are lots of things to do at the village, and the sky's the limit when it comes to fun! A leisurely stroll here takes you back in time as you explore the 28 acres of this ultimate "gathering place" for locals and visitors alike. The Village of Baytowne Wharf is the heart and soul of Sandestin Golf and Beach Resort in Sandestin, Destin's next door neighbor... literally! Homeowners, guests and visitors like nothing more than window-shopping and spending time in this unique atmosphere. The village is alive with shopkeepers, visitors and children eating ice-cream cones-there's even a Starbucks where you can sit outside with you're your favorite beverage and watch the world go by. Late in the afternoon, everyone heads to the waterfront for sunset and the amazing show over Choctawhatchee Bay. There's shopping in the village day and night, and restaurants galore that run the gamut from "A" to "Z!" The pleasant hustle and bustle of the village never stops, but at night, the village really comes alive with more than a few nighttime clubs and bars that stay open late into the night. In addition, the Village of Baytowne Wharf is surrounded by the best of Northwest Florida and the beauty of Choctawhatchee Bay. That's why any visit here is one of the best ways to experience life the way it used to be on the Gulf coast... relaxing, easy-going and stress-free-what more could you possibly want?

Seaside
By now, most people have heard about Seaside on Scenic 30-A. This unique beachside community is one of the best places to spend a day just walking around and doing... whatever you want! If you haven't heard of Seaside, you should get to know it-the pastel cottages, picket fences, sugar-white beaches, bikes and the eclectic crowd that always seems to be smiling and happy! There's an idyllic sense of paradise in this tiny community that's not only appealing, but welcoming to everyone who takes time to experience this perfectly planned neighborhood of small lanes, charming boutiques and shabby-chic furniture stores... foot-long hot dogs sold from an "Airstream," plus the iconic Victorian post office at the heart of it all. You'll be greeted by "good vibes" wherever you go and even the shortest walk will reveal an unexpected surprise at every turn. Seaside also means shopping in an open market across the street, concerts that spring to life on the grassy green of "town square" and sunsets framed by tall, white pavilions by the gulf, or the lively upstairs bar at Bud and Alley's, Seaside's oldest and most famous restaurant and bar. Seaside also has its own theater and community of actors, an antique book store and a school for Seaside's younger residents who live there all year long. But be warned... if you stay in Seaside too long, you may never want to leave!

Gulfarium Marine Adventure Park
This adventure park has seen millions of people walk through its doors since it first opened in 1955. Destin residents were sold on the idea of an aquarium, tourist attraction and scientific research center all in one-the rest is history! In the beginning, visitors were treated to sharks, dolphins, rays and turtles through glass portholes that gave the impression of being in the water with all the marine life. But throughout the years, Gulfarium has grown with the addition of new pools and exhibits that now feature sea lions, otters, alligators and many exotic birds. Close-up animal encounters are one of the best parts of this adventure and an "other-worldly" experience that will create lasting memories... and then some! One thing's for sure, you'll have plenty of "tall tales" to tell when you get back home!

HarborWalk Village
Nestled below Destin's "Emerald Grande," is the magical HarborWalk Village, a waterfront village for everyone who loves the emerald green water of the Gulf coast. Whether it's eating beside it, speeding over it or above it all on a brightly colored parasail, this village has something for everyone, including a variety of activities in or out of the sun and special entertainments for every member of your family! This is an idealized version of the "the good life, or better yet, "the best life" where you can actually hail a Ferry ride to a pristine beach only yards away and order lunch or whatever you want to eat or drink before relaxing by the rolling surf and soft, white sand of Noriega Point. Before you can finish the first chapter of your book, delicious food and thirst-quenching drinks arrive on a silver platter! Well, maybe not a silver platter, but a platter nonetheless and a waiter to be sure... just for you-all day long! Should you tire of luxuriating on the beach, head back to the village for a little shopping, live entertainment or even more yummy selections from one of the restaurants, cafes or eateries that line the waterfront. If you're in the mood for a little adventure, then it's a simple matter of choosing one of the exciting water sports offered at the village, including boats for fishing or just plain fun on the water, pontoon boats for large families and all your friends, dolphin cruises and jet-ski rentals for anyone with a need for speed? There's plenty of nightlife in the village, too; so, why not stay a while and dance the night away at one of the village nightclubs or bars. You can also join one of the nightly street parties in the village or take part in one of the festivals along the waterfront. There's always something going on at HarborWalk Village, including a weekly display of fireworks over the water. HarborWalk Village is Destin's answer to... well, just about everything; so, be sure to make friends with one of Destin's BEST vacation destinations!

Henderson State Park
If you're serious about walking, only Henderson State Park offers some 6,000 feet of natural scenic shoreline bordering the sugar-white beaches of the Gulf of Mexico. The park's best natural features include sand pines, scrub oaks, and dune rosemary. Easy access boardwalks make swimming, sunbathing and fishing as easy as taking one step after another and four pavilions provide plenty of room for any family gathering or picnic. The nature trails provide visitors with a close-up look at the coastal dune ecosystem and camping overnight or longer is also possible at one of the 60 campsites located in the park's secondary dune system. The bathhouse facilities are air conditioned or heated as necessary and outdoor showers are also provided. Kids enjoy their own playground within the campgrounds and everyone has a front row seat for Florida's most colorful show as the sun sets into the Gulf of Mexico. Henderson State Park has something for everyone; even if you only want to sit on the beach and read a book... it's all possible at this number one attraction! Just bring plenty of sunscreen and a little mosquito repellent and you're good to go-Henderson State Park will do all the rest!