In Destin, there are so many local favorites for breakfast and Sunday brunch.
By | June 18, 2013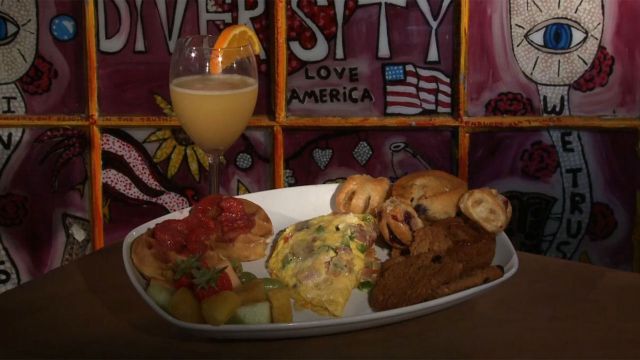 Destin, FL
When asked to write this piece, I had no idea where to begin. In Destin, there are so many local favorites for breakfast and Sunday brunch. I judge a restaurant first for quality of food then I look at the creativity of the menu, professional service, surroundings or atmosphere, the price and then the consistency of all of these items combined. Together, these create the overall value and success or failure of the dining experience. Each restaurant on this list offers great food items and from my personal experience wonderful service also. Now when it comes to price, each will vary, but each has its own specialty or uniqueness that sets it apart from the others... and quite often that is why we choose a restaurant in the first place. So, here are my ten favorite places for breakfast and brunch in Destin, listed alphabetically.

Another Broken Egg (Daily Breakfast and Brunch) – With multiple locations along the coast to serve you, the Destin restaurant is located in the heart of town. Another Broken Egg welcomes families, is classically decorated and has a creative menu featuring fresh, beautifully prepared breakfast and lunch items. Plus they have a decadent brunch menu seven days a week. If your preference is healthy eating, you can find it here. They close at 2pm. Don't skip Another Broken Egg on your next vacation.

Callahan's Restaurant and Deli (Sunday Brunch) – Located just off Rt. 98, in Destin, Callahan's opens at 9am on Sundays for brunch. This down-home, warm restaurant is kid friendly and loves families. Callahan's offers all of the traditional breakfast favorites ... and so much more! Meals are very reasonably priced plus they have a bar and outdoor seating. You won't want to miss this local favorite.

Donut Hole Bakery Cafe (Daily Breakfast) – Another family-friendly favorite, the Donut Hole is open 24 hours a day, seven days a week. They primarily serve traditional breakfast food, sandwiches and salads ... but the Donut Hole also has a bakery. And this bakery produces some of the freshest key lime pies in Destin. But don't stop there, their bakery items are all fantastic! So settle in any time of day or night, order your meal, but always save room for dessert... you'll be glad you did.

Harbor Docks (Daily Breakfast) – They have always been a local favorite for lunch and dinner, but now the owners have begun their own offerings for breakfast as well. Nice selection of breakfast items along with omelets, sandwiches and sides. Serving breakfast from 7-11am, seven days a week, you will find competitive prices and a very relaxing atmosphere with a view of the Destin Harbor from nearly every seat in the house. Check out their baby Bloody Mary's and Mr. Shipp's Fisherman's Special.

Harry T's (Saturday and Sunday Brunch) – This is one you won't want to miss. Located on the Destin Harbor, the views of the Destin Pass and Harbor are spectacular. They open at 10am on Saturday and Sunday and the brunch menu is served year round. The menu includes an array of omelets, benedicts, waffles as well as something for the kids. Plus, unlimited champagne is also available.

McGuire's Irish Pub (Sunday brunch) – A limited specialty brunch menu means McGuire's hits another one out of the park. Not only are they one of the most popular restaurants in Destin, they now present one of the best brunch experiences also. They offer a large variety of omelets, benedicts ... and yes, steaks! Plus their list of brunch libations is excellent... Irish coffee and Bloody Mary's ... or how about bottomless champagne and mimosas for only $5.99.

The Pancakery (Daily Breakfast) – If you are in love with pancakes, French toast and Belgian waffles, this is the place for you. Specializing in pleasing kids and adults alike, everyone loves these decadent dessert-like breakfast meals with toppings galore! If you are not into all of this yumminess, all is good because they also have your traditional breakfast fare. They open at 7am and also serve lunch.

Rutherford's 465 (Sunday Brunch) – Located on the beautiful grounds of the Regatta Bay Golf Course, Rutherford's 465 is located in the club house which overlooks Lake Regatta. Traditional furnishings consist of dark woods, beautiful bar area and windows galore. Many of the tables have a view of the approach and 18th hole. The brunch menu begins at 11am on Sundays year-round. The menu consists of appetizers, salads, sandwiches, seafood and steaks plus a selection of fine wines is available. The public is welcome... at the gate, simply mention you are going to Rutherford's 465 for brunch and you'll receive a warm, friendly welcome.

Whale's Tail (Daily Breakfast) – This newly renovated restaurant is located directly on the beach at Seascape Resort, and has been a Destin landmark for over thirty years. The restaurant opens at 7:00 a.m. for breakfast. The menu includes mostly traditional favorites, but you must order their home fries... excellent! The atmosphere and attire are VERY casual... come as you are. Whether you dine outdoors on the deck with the refreshing ocean breezes, or you choose a climate controlled environment indoors, this restaurant offers a beautiful beach setting for all of its guests.

790 Gulf Place (Sunday Brunch) – Located in the Inn at Crystal Beach on Old Scenic 98, you must check out their Sunday brunch... you will not be disappointed. Louisiana-style eggs benedict, omelets, beignets are classic dishes you might find in New Orleans. There are over two stories of glass windows overlooking the Gulf, or you are welcome to sit outdoors in the large, outdoor dining area just steps away from the sand dunes and the Gulf. Brunch is served from 11am-3pm. Oh ... and don't forget their bread pudding... plus bottomless champagne and mimosas.

Menus and details can be found online for each of the restaurants on the list. For all of you folks who love the breakfast menu from back home, Destin also boasts a Cracker Barrel, Golden Corral, IHOP, Panera's Bread as well as a Waffle House on every corner.