What's there to do in Destin? Well, beyond the fishing, boating, swimming, sunning, go-karting, water-sliding, thrill-riding, museum visits and shopping, not much!
By TripSmarter.Com | March 21, 2013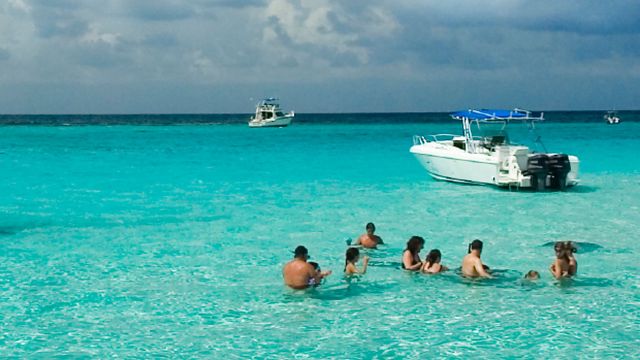 Destin, FL
We've had several posts in our forum asking variations of "what's there to do in Destin?" Now, of course the obvious answers weren't enough - fishing, swimming, water sports, golf - they wanted the things that are Destin-specific.

We were getting these questions often, so it seemed natural to expand on the answers and put them all in one place. So, without further ado, the attractions of Destin...Since you're on the coast, and going to be in the water for at least part of your trip, you ought to start with a visit to the Gulfarium. This marine park in Ft. Walton Beach, just across the bridge from Destin, has live marine shows, educational programs, and even a dolphin interaction program that let's you get into the water with Flipper!

And that would make this as good a time as any to let you know that the program at the Gulfarium is the only way you'll legally get to swim with dolphins on your trip. That's right, it's illegal to swim with, touch, or in any way "harass" wild dolphins.

Vacationing in Florida you're going to want to do some of the fun, vacation-y things... and Big Kahuna's Water & Adventure Park is a great place to do them! Featuring over 40 water attractions, including speed slides and body flumes, kid-sized slides and pools, and the Biggest Man-Made Waterfall in the world!

Big Kahuna's also has three large, winding, tropical mini-golf courses, Super Speed and Grand Prix go-kart tracks, and thrill rides that sling you into the sky or whip you in dizzying circles. Big Kahuna's is three miles past the Destin Bridge on Hwy. 98.

The Track is just down the street from Big Kahuna's, and offers multiple go-kart tracks, miniature golf, bumper boats, bumper cars, bungee jumping and a kid's area full of things for the younger members of the family.

The first thing that'll catch most eyes is the "Wild Woody," a three-tier wooden go-kart track! If you haven't raced around one of these yet, you're missing out on wild ride. Zooming up, down and around, a trip on the Wild Woody won't be forgotten.

Are speed, thrills, and water parks too much excitement for you? That's no problem, Destin has plenty of other things to do - including visiting the Indian Temple Mound Museum. This National Historic Landmark is in central Ft. Walton Beach, right off Hwy 98, and has exhibits that detail the lives of the Native Americans who lived in this area over the preceding 10,000 years.

One of the more visible and amazing sights at the Museum is the preserved temple mound that's located on the grounds of the Museum. It was used for political and religious ceremonies, and was made from 500,000 cubic feet of sand. dirt, clay and shell. The Indian Temple Mound Museum is a must-do for history buffs.

Sure, the Gulf and the weather that comes with it are the biggest draws for Destin, but Destin's shopping opportunities rates pretty high as well. And no trip to the Gulf Coast would be complete without stopping at one of Alvin's Island Tropical Department Stores.

Alvin's is bikinis, souvenirs, quality men's and women's clothing and accessories, and every bit of fun, at-the-beach toy and gadget you can imagine! Alvin's specializes in bringing together everything you might need to enjoy your vacation in Destin with everything you'll need to remember it!

Women's swimwear by Kechika, Point Conception and V.M. Sport will keep all the ladies busy, while the men wander around checking out the toys for water, beach and fairway! Alvin's has two locations in the area, one just west of the by-pass on the right, the other on East Hwy. 98 in Ft. Walton Beach.

If you're in the mood for serious shopping, though, you'll want to head straight to Silver Sands Factory Stores. This giant collection of name-brand factory stores sits between Destin and Sandestin Golf & Beach Resort, and just across the street from the Gulf!

The stores range from Anne Klein to Bally to Bose to Kenneth Cole... and the savings are incredible. Silver Sands is the largest Factory Store in the country, and specializes in up-scale merchandise. Visitors to Destin could spend their entire vacation shopping at Silver Sands... there's just that much to see, and that many bargains!

The Market Shops at Sandestin offer a relaxed alternative to outlet shopping. Located within Sandestin Golf & Beach Resort, but open to the public, the Market Shops at Sandestin is shopping with a casual, beach ambiance. From courtyards to cafes, burbling fountains to pleasant decks, the experience of shopping is transformed.

From exquisite fine china to casual resortware to world-class artworks, the Market Shops at Sandestin are a surprise around every corner. The Thomas Kinkade Gallery has works by this world-famous "painter of light, " while Infinity offers up Victorian bed and bath items.

What's there to do in Destin? Well, beyond the fishing, boating, swimming, sunning, go-karting, water-sliding, thrill-riding, museum visits and shopping, not much! Unless you like to eat... but that's another story!