Destin Seafood Festival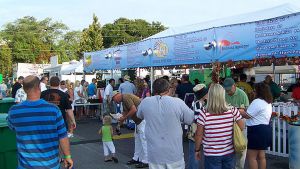 Destin, FL
Just as it did in its first year - 1979 - community involvement makes the Destin Seafood Festival the great success it is.
When:
October 6 - 8, 2017
Where:
Destin Harbor
The 39th Annual Destin Seafood Festival is going to set up along the length of Destin harbor from Harborwalk Village to the Boathouse Oyster Bar, including the Lucky Snapper Grill & Bar, Olin Marler Charter Boat Service, A.J.'s Seafood & Oyster Bar, Galati Yacht Sales, Dewey Destin's, the City of Destin Royal Melvin Heritage Park, Fisherman's Wharf, and East Pass Marina on October 6-8th, 2017.
The location puts the festival right in the heart of the action along the harbor and the Destin Fishing Rodeo, which takes place the entire month of October.
In 1979, the first festival was a 1-day event produced by a small group of local women for the benefit of the small village's fishing industry. "The whole town turned out and had fun and helped," said Fran Beaird, one of the first festival's organizers. She and about seven other members of the Charter Boat Association Auxiliary, including Nancy Cheney, organized a festival on the first Saturday of October that year. "Our husbands were in the business (fishing), and we wanted to encourage more people to visit the docks, take in the Fishing Rodeo, and become interested in fishing. Everything we (the Auxiliary) did was geared to the fishing industry," stated Cheney.
The first festival took place on what was then called "Kelly Hill," where The Lucky Snapper is now located. Mattie Kelly donated the use of this area in which they had about 50 arts & crafts booths, a few food booths, and some activities for kids. They had a flatbed for a stage, where locals provided free entertainment.
The festival was turned over to the Destin Area Chamber of Commerce after the Ladies Auxiliary completed its second year, realizing that it was going to outgrow its small group of organizers.
For more information, please contact the Destin Chamber at (850) 837-6241 or visit DestinSeafoodFestival.org.