Video Player
NOTE:
Works on most websites and blogs. Does NOT work with most social networks - use
Video Link
instead. Not compatible with video upload sites (YouTube, Vimeo, etc).
Published by:
TripSmarter.Com
Published date:
April 18, 2014
Total views:
162 total views
Monthly average:
81 views / month
Daily average:
0 views / day
Allen McDowell from Gulfarium - Did You Know?
Allen McDowell, Curator of Fish & Invertebrates at Gulfarium, is featured in this "Did You Know?" segment.
Website:
Gulfarium.com
Location:
1010 Miracle Strip Parkway, SE.
Ft. Walton Beach, FL 32548
Phone:
850-243-9046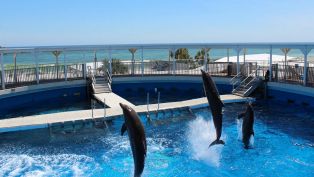 Delight in watching dolphins leap and sea lions play during our spectacular shows! Or participate and interact directly with these and other remarkable marine animals including stingrays, sharks, and otters in our new interactive programming. Enjoy educational exhibits and beautiful ocean views.
Listing Management:
Update Listing