Video Player
NOTE:
Works on most websites and blogs. Does NOT work with most social networks - use
Video Link
instead. Not compatible with video upload sites (YouTube, Vimeo, etc).
Published by:
TripSmarter.Com
Published date:
September 13, 2016
Total views:
15 total views
Monthly average:
1 views / month
Daily average:
0 views / day
McGuire's Wine Collection - Dining Tip
Margit Bisztray talks with Perry Hunter about the wine collection featured at McGuire's in Destin, FL.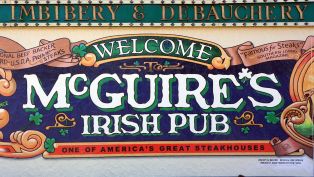 McGuire's Irish Pub first opened in 1977 as a small neighborhood pub in a shopping center. In 1982 McGuire's moves to its current location; Pensacola's original 1927 Old Firehouse. Inside the pub you'll find a turn-of-the-century, New York Irish Saloon themed 615-seat restaurant.
Listing Management:
Update Listing