A long stop at Bahia Honda State Park, a mere 37 miles from Key West, is a perfect way to spend the day.
By TripSmarter.Com | March 22, 2013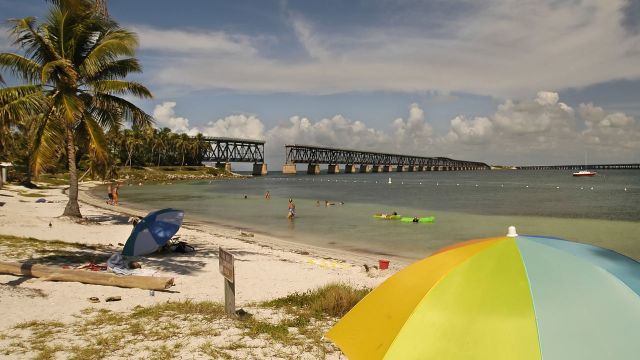 Key West, FL
Leaving Key West is never easy, but leaving for a ride up the Keys is always a good idea.especially if the Best Beach in the Continental U.S. is at the other end! A trip up the Florida Keys Scenic highway is an adventure in itself, traveling through some of the Nation's most spectacular scenery. A long stop at Bahia Honda State Park, a mere 37 miles from Key West, is a perfect way to spend the day...swimming, sunning and relaxing...but take a picnic in case you get hungry!

On the way, just after Big Pine Key, you'll pass through the National Key Deer Refuge.thousands of acres of shrub wetlands, upland forests and wetland marsh-home to the endangered Key Deer population, now estimated at approximately 800. These tiny, beautiful deer are often drawn to the roadside to graze, so PLEASE obey the speed limit and drive slowly.

Up a few miles further and on the right, is Bahia Honda State Park.over 500 acres of recreational treasure with extensive sandy beaches and deep waters close enough offshore to provide exceptional swimming and snorkeling. It's a dreamy, ecologically pristine and truly luscious place with water like glass. and it's secluded!

Many plants in the park are rare and unusual; the subtropical climate throughout the Florida Keys has created a natural environment found nowhere else in the continental U.S. these natural wonders are all easily viewed along a nature trail that follows the shore of a tidal lagoon. The park also has one of the largest remaining stands of the threatened silver palms in the United States.

There are three different campgrounds in the park and three duplex cabins available. Three large pavilions with barbeque grills are provided for beachside picnicking and there are several good areas for fishing. Old Bahia Honda Bridge, once part of the Flagler railroad to Key West, is accessible by foot and provides spectacular views of the entire island. You have a bird's-eye view of the water below. fish, large rays and often turtles swimming just beneath the surface.

Birds are everywhere, too.wading birds and shorebirds feed and rest on the shallow sand flats during low tide and a variety of hawks soar overhead in the fall months. Take your time and explore Bahia Honda, swim in its warm waters and snorkel just a few hundred feet offshore- many think it is the most beautiful place in the world.in fact, the Conde Nast Traveler readers voted it the "best beach in the continental U.S in 1992. One of the reasons is that it's completely untouched by man...totally natural, just the way it's been for hundreds and hundreds of years!

Bahia Honda is a natural and protected island paradise just waiting for you. There is a small entrance fee per vehicle and its passengers but it's worth it and you can spend all day there...or all weekend if you're into camping. This time of year the temperatures are just beginning to come down to a realistic 80 degrees and the water is really perfect. So, if you're idea of the perfect spot is a secluded island...try Bahia Honda for size and see if you agree that it's one of the best beaches in America? And by the way, the pronunciation is a little tricky and the locals may have even decided just what's correct "on their own?" The preferred and usual pronunciation is: Bay' ya Honda(just like the car)...so speak like a local and go where they go to get away from it all...Bahia Honda State Park!