Check out this list of the best places for dinner in Key West, FL!
By Marjorie Paul-Shook - Key TV | June 18, 2014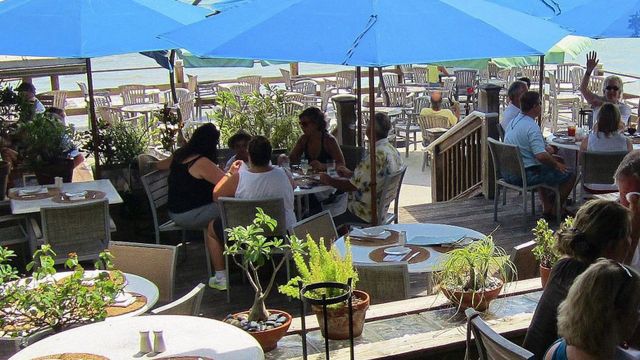 Key West, FL
Louie's Backyard
Sitting pretty overlooking the Atlantic Ocean between The Casa and The Reach hotels Louie's is the premiere restaurant on the Island. Chef Doug Shook has been creating culinary perfection at this gorgeous and romantic restaurant for over 25 years. Lunch and dinner served daily. Also don't miss Louie's Upperdeck where Chef Martha presides creating her own brand of small plates and tapas. Perfection.

Salute on the Beach
Super fresh Salute sitting right on the beach overlooking the Atlantic. Delish food and wine in a casual atmosphere. Watch beach volleyball as you enjoy fresh simply prepared dishes. Only using the very best ingredients Salute is sure to impress. Lunch and dinner daily.

Hot Tin Roof
Gulf side on the island of Key West Hot Tin Roof can be found in the elegant Ocean Key Resort and Spa With glorious views of Sunset and Christmas Tree Islands, Hot Tin Roof's view is hard to beat. Also hard to beat is the menu. Enjoy Lobster Sliders in brioche with fried jalapeno and cilantro. You'll want to order it all!

Old Town Mexican
Situated right in heart of Duval St Old Town Mexican is sure please. Chef Gail Brockway has been a premiere Chef on Key West for over 25 years. Her love and knowledge of Mexican food is legendary on the Island. Gail learned to love Mexican cuisine while living in Santa Fe. Don't miss her prize winning Banana Enchiladas, They are to die for!

Santiago's Bodega
Santiago's Bodega is off the beaten track situated below Duval St on tiny Petronia St. Santiagos' features amazing small plates and a very unusual wine list. Every bite at Santiago's is a sensation. I especially love the Salmon Carpaccio with crustini and crème fraiche. Don't miss this very special place.

Ambrosia
Situated on the Atlantic side of the Island in the recently remodeled Santa Maria Hotel is the finest Sushi Bar on the Island and maybe all of Florida. Chef Masa creates art in every dish with only the very finest ingredients. A feast for your eyes as well as your mouth. Ambrosia is the best.

Pepe's Eldest Café
Pepe's has been feeding Key West's working class since 1909. The place has a comfortable charm and wonderful food. The drinks are all made with fresh squeezed juices. Pepe's has only the freshest fish from the docks across the street as many as four different preparations daily.

Michaels
Michaels is situated in a charming old town neighborhood. Michaels is best known for having the best steak on the Island. But what I love is to stop by at Happy Hour and sit at the bar to enjoy Michael's wonderful Fondue with a crisp glass of Chardonnay. Heaven!

Mangia Mangia
Mangia Mangia is also nestled in a lovely old town neighborhood just catty corner to Micheals as a matter of fact. Mangia is a long established pasta restaurant. Garlic starts wafting through the neighborhood around 2:00pm luring hungry folks in for supper. Mangia is celebrating 25 years of success! Mangia now has gluten free options. Mangia Mangia!

Sandy's Café
Located in a laundrymat in mid-town on White St. Sandy's has now expanded its menu to include some really superb Mexican dishes. I'm hooked on the soft chicken tacos with guacamole. Talk about casual, you eat at a countertop right there on White St. No wine but the best Cuban Coffee on the island.