Check out these amazing places for breakfast and brunch in the Florida Keys!
By Kim Works - Key TV | April 14, 2014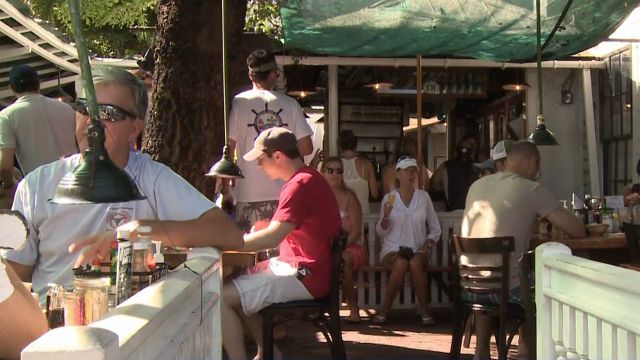 Key West & the Florida Keys, FL
If you've ever visited Key West, you'll know that the rooster is the unofficial mascot on the island.

Of course, the crowing continues throughout the day but to really enjoy the birds and their offspring, make a morning with breakfast at Blue Heaven. Situated within Bahama Village, Blue Heaven is a great place to start the day. They offer a full bar and even offer a Rooster breakfast special.

Another historic restaurant to enjoy breakfast in Key West is Pepe's Eldest Café. The fresh squeezed juices are legendary and you'll want to make sure you find out what fresh bread they're offering that morning. My favorite is mango bread... yum. Pepe's Café is located on Caroline St and they even have holes in the fence so outsiders can look into the patio... there are 2 additional holes in the fence so the cat and dog can take a look too.

In Marathon, the Island Fish Company takes breakfast to a new level with freshly made sauces, breads and more. They're right on the water and even have a marina is you want to come by boat. Their full bar creates a meal out of the bloody mary and the shrimp and grits are great!

Also in Marathon, there's a little diner called the Cracked Conch Café. The king of conch, Joe DeConda, has created magic with conch, that's the creature that lives in the shell that you can listen to the ocean when on land. Keys people also frequently use the shells as horns and Key West even has a Conch shell blowing contest every year. But, getting back to the café it's everything conch including mouth watering Conch eggs benedict... .hard to beat that one!

If its brunch that you prefer, then on Sundays head over to Bistro 245 at the Westin Resort and Marina overlooking the water in Key West. Plan to stay a couple of hours, though, since it features everything from breakfast to entrees and even sushi. Of course, you can visit the buffet as many times as you like for one price.

If you're in a hurry, then you might take the bike to the Old Town Bakery where they get up very early in the morning, when it's still dark and bake all the goodies you can think of. In fact, the owner Niall Bowen has been baking since he was 16 and that dedication continues today. Also, it's a great way to see an historic building which they lovingly renovated as a bakery since, back in the day, it used to be Saldago Brothers Grocery.

Another place that will get you off in a hurry is the very popular Sandy's Café on White St. This is an actual window that you walk up to that has a laundry in the building behind the window. This is where all the locals go in Key West for cheese toast, Cuban coffee and conch gossip. You never know, you might be rubbing elbows with a city commissioner or two at the counter.

In Islamorada, a great local place to go is Mangrove Mike's. Located within a storefront at Milemarker 82 or so, this diner like restaurant is affordable and always consistent with great food, coffee and more. The wait staff is very friendly and after your meal, you can browse through the adjacent "Lobster Trap Art Gallery" for souvenirs from your vacation.

The Key Largo Conch House is a bit hard to find but definitely worth the effort. Located at Milemarker 100.2, Oceanside, the restaurant is housed in an old "Conch style" home that they converted into a café. The family-owned business offers 7 different eggs benedict , Raisin pecan French Toast and make sure to ask about their daily specials.

For a taste of France, go to Petronia St and look for the La Creperie for authentic French recipes, delicious French coffee and sweet crepes for any time of the day. If you're lucky enough to get a seat at the counter you can even watch their skillful chefs create the crepes!