I love it when it gets cold in Key West.
By Marjorie Paul-Shook - Key TV | March 21, 2013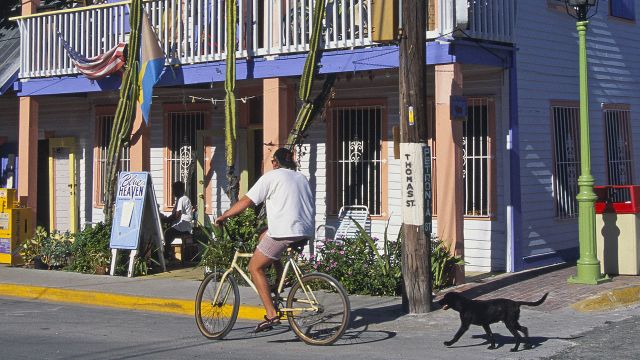 Key West, FL
Oh boy, we had a real cold snap in Key West this week. January 3 was the coldest day ever recorded in Key West since the other coldest day recorded in 1898! I love it when it gets cold in Key West. Nobody has heat so Key West people come up with many creative ways to try and burn their houses down. Ovens on, pots of boiling water on the stove, dicey space heaters caked with dust from years of sitting in the attic. Some people have heat pumps wired into the central AC that tend to blow every fuse when they are turned on.

Just last night I was coming home from rehearsal for Guys and Dolls and noticed my friend Mimi's house was pitch black and her car was in the drive. I pulled over to investigate and sure enough she was wandering around her lovely house holding a single candle like the little matchgirl, wide eyed and wondering what to do. She had put on the heat pump and the whole house went black! We lit candles and had a glass of a very nice Pinot while we waited for the electric company to come. How perfect!

The same thing happened at Janice Moody's yesterday I show up for my appointment and her office door is propped open with a chair. Acrid smoke was at this point drifting into the lobby, I called out to her and she emerged from the back saying she'd turned the heat pump on and it started an electrical fire!!!! On closer inspection I saw the ugly black soot streaked up the ceiling. Funny how I'm not so jealous about not having a heat pump. In fact I never want to type the words again!

I like to cook when it's cold like this, yummy all day pot roast or turkey, a mess of greens boiling away on the stove. I mean as long as you have your oven on. Then invite some friends to supper, ones that make you laugh a lot. As soon as everyone takes the socks off their hands let the fun begin! Crowd all your candles in the middle of the table creating a waxy bonfire. With enough laughter and wine, crusty bread and thick gravy you don't even notice the cold.

Living it up in Key West. Wish you were here. It'll be 72 by this afternoon.