Think about an alternative ways to get around while you're here and enjoy your vacation even more.
By | March 21, 2013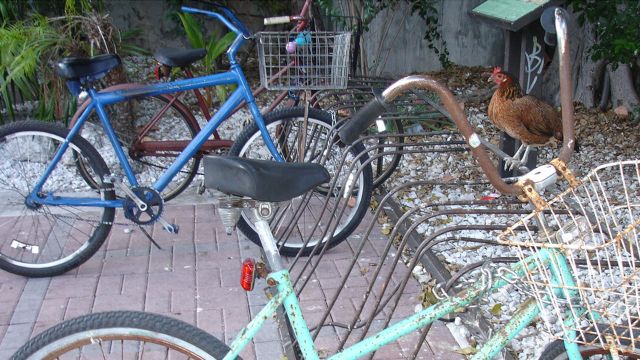 Key West, FL
The Florida Keys have come a long way when it comes to transportation. Key West has always been easy and fun to navigate on a bicycle since it's a 2 mile by 4 mile island and parking's a breeze on a bike. Just make sure you have a sturdy lock and park it a bonafide bike rack. City officials cringe at bikes on streets signs and parking meters, and please don't ride the wrong way down a one way street, not only is it illegal but its dangerous too!

The new electric vehicles look silly but are extremely popular. Just remember, the same rules apply to these roller skates that apply to a car or scooter.

Scooters make you feel fun and free but they can easily get away from you if you're not paying attention. Just keep in mind that you might be on the blind side of a car so drive defensively since the ER is NOT a place you want to visit during your vacation and please, for locals' sake, keep your thumb off the horn if you can.

The most interesting ride both on the island and in the Keys is the city bus system. You'll not only get where you want to go in a/c comfort at an affordable price but you'll also meet some Keys characters. The Lower Keys shuttle makes it easy to go anywhere between Key West and Marathon for only $4. You can even check the real time that the bus will make each stop with a simple phone call.

If you want to combine learning about the island while you ride, then you'll want to hop onto one of three tourist trolley/trains. The Conch Train highlights Key West attractions and history so you can then decide where you want to go for a more in depth look. The Trolley and City View Trolleys also offer information on the island but gives you the ability to hop on and off during the tour to explore those attractions further.

Most hotels offer complimentary shuttles to island locations but if you're attached to your vehicle, remember to park in legitimate parking spaces to avoid tickets and/or tow charges.

And then, of course, there's always the friendly pedicab cyclist, best job for those who want to stay in shape and the local taxi's who are Keys characters in their own right.

So whatever mode you choose to get to the Keys, think about an alternative way to get around while you're here and enjoy your vacation even more.