Key West is booming! Real estate prices are going up, available property is dwindling... find out why.
By TripSmarter.Com | March 22, 2013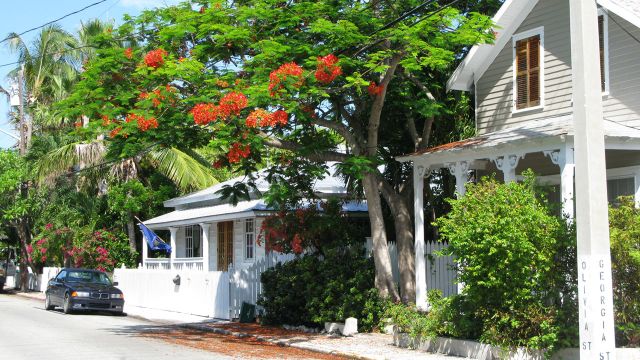 Key West, FL
Key West real estate titles date back to the Kings of Spain. The island's infamous "live and let live" "manana town"attitude is deeply rooted in its twisted history. Originally christened "Cayo Hueso" - Island of Bones - by Spanish explorers, it is thought to have served as a pirate's graveyard.

A century later, it was the richest per-capita city in America with private fortunes made in sponging and salvage. Another half century passed, and it was the poorest. The island remained desperately poor for decades, but still managed to attract a fascinating cast of characters... Ernest Hemingway, Thomas Edison, Lou Gehrig, Harry Truman, Tennessee Williams... even Calvin Klein and Jimmy Buffet called it home.

These days, Key West is booming. Restoration, renovation and historical preservation have become a way of life in Key West. And, as you look back over the past few hundred years, you understand the island's true "claim to fame" is its difference...

This is America's only Caribbean island, framed by America's only living reef... the only city ever to secede from the U.S.

Key West is a thriving art community, a literary colony, Jimmy Buffet's Margaritaville... It has always been a haven for individualists and, in its own sweet way, still refuses to go along with the mainstream.

October's Fantasy Fest celebration has been compared to Mardi Gras in New Orleans or carnival in Rio. Orchids grow wild here... banyon trees shelter tropical gardens... breezy conch houses line tiny shaded streets... life goes on at its leisurely pace and "Conchs" - native Key Westers, remain unimpressed with the constant flow of celebrities.

Perhaps Key West is not a place for everyone, but it is a place for anyone who knows their own mind and... heart.

Key West is tiny, divided into three basic sections: Old Town... with its palm-lined streets and historic gingerbread mansions. New Town... where most of the year 'round locals live. And, Bahama Village... a colorful predominately Cuban and African-American neighborhood dotted with tiny clubs and restaurants.

Jimmy Buffet called Key West "Paradise," and it is blessed with the most moderate temperatures in the country. The average daily temperatures are 81.9 degrees high and 73.4 degrees low.

Easily accessible, America's only caribbean island also has the distinction of being the only caribbean island connected to the mainland by a network of roadways and a few extraordinarily long bridges.

One of the best things about Key West is it's charming variety of guest houses and hotels, so it's nice to have an insider's perspective. For information and assistance in choosing accommodations in Key West, see our accommodations listings on this site.