Key West Mystery Blobs have started popping up all over town.
By | March 21, 2013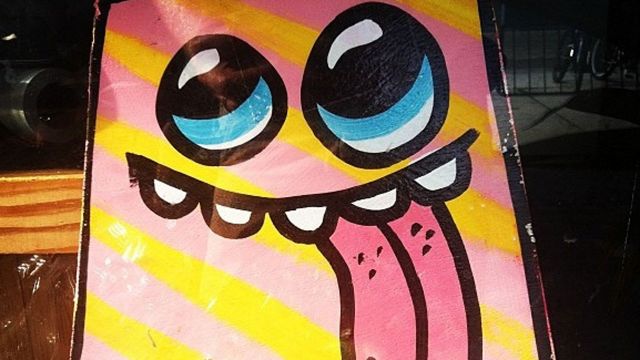 Key West, FL
The happiest thing is happening in Key West. All you have to do is keep a sharp eye as you go around town and you'll be amazed at these crazy critters you'll see in the most unlikely places. They can found at the base of a light pole peeking out of the weeds, on the corner of a dirty dumpster or sneaking out from the very bottom of a garden wall.

You have to keep your eyes peeled and you will be amazed and amused. Some will say it's graffiti and the artist should be punished. I say they are public art and a delightful surprise to all who encounter them. They have caught the eye of the grade school kids and become somewhat of a sensation. One local gallery managed to have a showing of the Mystery Blobs.

Many of the kids that caught wind of this happening arrived wearing homemade blob t-shirts. The artist created stuffed blobs, three-dimensional wood wall hangings, stickers and paintings. They went like hotcakes. The kids acted like it was Christmas morning. Of course the artist remains anonymous. They come in all manner of characters, Santa, cowboy, stripper, cop.

I got a stuffed country girl blob that I love. I place it around the house to add a touch of whimsy. Only in Key West. Dazzlin'.